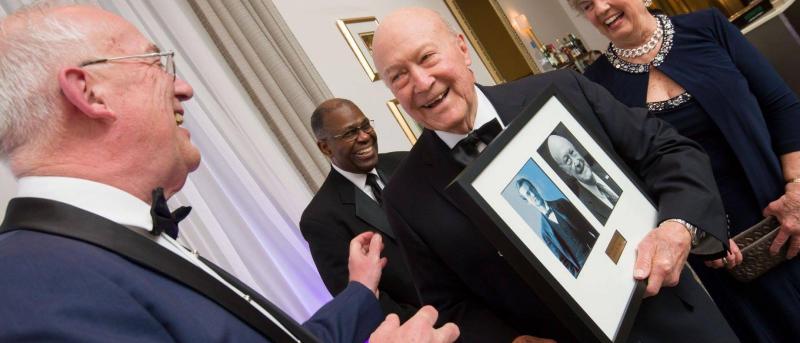 Father of Modern Dental Education,Through the Eyes of His Grandson
Bill Gies II, is pictured above with a framed photo of his grandfather and himself, given to him by the ADEAGies Foundation.
By Andrea Kott, MPH
To colleagues and students, William J. Gies, PhD, (1872-1956) was a brilliant Columbia University biochemistry professor, demanding and driven. To the field of oral health care, he is renowned as the father of modern dental education. At least two prestigious awards, one given by the ADEAGies Foundation in the form of a brass bespectacled bust of the man, bear his name.
But to his grandson, Bill Gies, II, Dr. Gies was not only strict but also a fun-loving man, mentor, and source of inspiration.
"He was a stern Victorian gentleman on the outside, but behind that appearance there was a very nice man and a good buddy to me," says Bill Gies, 82, who travels regularly to speak about his grandfather to organizations like the American Dental Education Association (ADEA), and to dental schools, including the College of Dental Medicine (CDM), which Dr. Gies helped found a century ago. "He was the only grandfather I had and I was his only grandson," says Bill Gies, who also serves as a trustee of the ADEAGies Foundation. "He took a liking to me," he recalls, sounding a bit embarrassed. "I guess it helped that my father named me William J. Gies, II. We became very good friends."
Bill Gies grew up in Radnor, Pennsylvania, during World War II. He remembers being about six years old when his father and uncle––two of Dr. Gies' four children––went off to war, leaving him and his cousins to spend summers at the Gies' vacation home in Mount Gretna, Pennsylvania. "My grandfather and grandmother were Pennsylvania Dutch. 'Dutchies' we called them. They were very strict." But Gies saw a playfulness behind his grandfather's serious demeanor. "He loved math and word games. To him, everything was a puzzle. Because I was his namesake, he'd wink at me a lot, and we'd go off and play."
Delight fills Bill Gies' voice as he describes his grandfather's penchant for working past midnight and calling colleagues at 2 a.m. to float an idea or question. "I heard several professors remark that it created quite a hassle," he chuckles. "Their wives got incensed that Grandfather would wake up their whole household, but he didn't see any problem in it." Then, toward the middle of the afternoon, Dr. Gies would get up and start his day. "He'd wake up at 3 p.m., walk to the lake to buy us ice cream and play games with us," Bill Gies continues. "He was a fun man."
As Bill Gies tells it, his grandfather had a wry sense of humor. "He said he had to drink 12 ounces of beer every day for his diabetes," he recounts. "Just like a scientist, he'd carefully meter out the beer. Then he'd take a sip, look at me with a grimace and say, 'This is bad; it doesn't taste good.' But when he did not think I was looking, he seemed to really enjoy his medicinal beer."
Although Dr. Gies was a biochemist rather than a dentist, he brought academic credibility to dentistry as a health science profession requiring specialized medical training. Dr. Gies' 1926 "Report on Dental Education in the United States and Canada," commonly known as the Gies Report, remains just as relevant 90 years later. The report called for dentistry to be taught in universities as the oral health specialty of medicine, and for rigorous medical and scientific instruction and research to be standard components of dental curricula. It was instrumental in elevating the educational and practice standards of a profession once practiced in barber shops. "Grandfather took a train to every dental school in the U.S. and Canada––not once but twice––to write that report," Bill Gies says admiringly. "He made a deal with his wife: she would take care of the family and he would take care of the world of dentistry. He knew what he was doing and he stood his ground." Dr. Gies also founded the prestigious Journal of Dental Research, largely with his own money, and helped start the International Association for Dental Research in 1920, and the American Association of Dental Schools in 1923. These associations are still among the most important in the field.
Yet his dedication to dentistry took a toll on his relationship with his children, Bill Gies notes. "He got in hock up to his ears to keep the dental journal alive," he explains. Consequently, his children had to finance their own college educations, which stung them. "They were not too happy with him and he sensed that." Indeed, the year before Dr. Gies died, he confessed to his grandson that he'd fostered dentistry to the detriment of his children. But Bill Gies finds no fault in the choices that his grandfather made. Instead, he says, "I felt sorry that his children didn't quite understand what he was trying to do."
What Dr. Gies was trying to do was establish dentistry as a healing science that was on par with medicine. And as far as Bill Gies is concerned, he triumphed. "Seeing what he achieved, what he could do with his mind, and what he left to this world blew my mind."
To this day, Bill Gies credits his grandfather for giving him the values and guidance that led to his own success, earning a bachelor's degree in economics from Princeton University and a master's in business from Harvard University. He went on to become the majority owner and chief executive of a highly successful and profitable thermo-plastic engineering company. "Grandfather would say, 'Know your market and go after it. Do what you need to do to win.' He wanted to impart his knowledge onto me and I wanted to emulate him."
Of all William J. Gies' champions, his grandson may be his staunchest. "Ours was a special bond," Bill Gies says. "It was quite a relationship."