Columbia Visiting Professorship Program
Contemporary Issues in Dentistry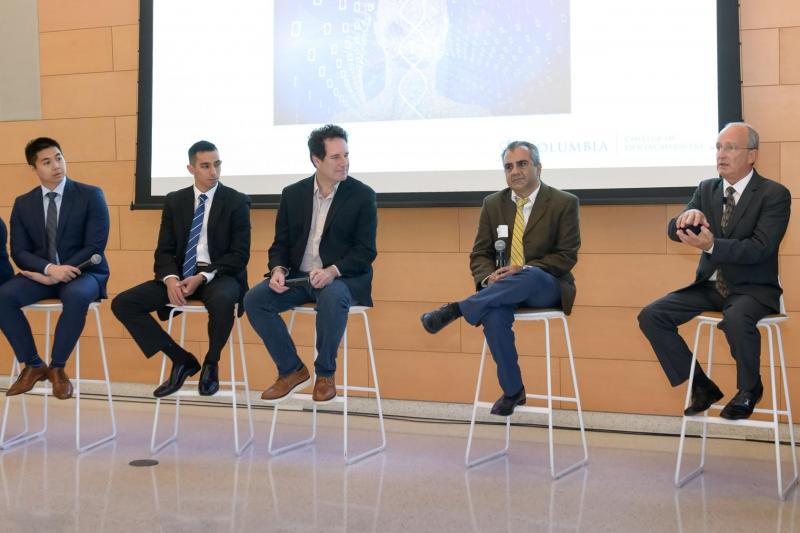 Panelists at the 2019 Visiting Professor Program Artificial Intelligence in the Practice of Dentistry with Dr. Hod Lipson, Columbia Engineering, and John Morton, Align Technology.
About the Visiting Professor Program
To remain a leader in dental medicine, each individual must carefully examine current and future issues-- often controversial-- in our rapidly evolving field.
Since 1980, the Columbia Visiting Professor Program at CDM has invited those at the forefront of dental medicine to discuss the evolving field and the professional challenges our students, alumni, and faculty will face. This program is presented in partnership with the Association of Dental Alumni and the Epsilon Epsilon Chapter of OKU, and with support from Dr. Ralph Kaslick '59, Perio '62, and the Dunning Memorial Fund. Click here to open Visiting Professor Overview.
Visiting Professor Program Advisory Committee
Dr. Ralph S. Kaslick - Chairman, Columbia Visiting Professor Program
Professor and Dean Emeritus, Fairleigh Dickinson University
Dr. Christian S. Stohler - Professor and Dean, Columbia University College of Dental Medicine
Senior Vice President, Columbia University Medical Center (CUMC)
Dr. David A. Albert - Director, Division of Community Health
Associate Professor of Dental Medicine (in Health Policy and Management), CUMC
Dr. Burton Edelstein - Chair, Section of Population Oral Health
Professor of Dental Medicine and Health Policy and Management, CUMC
Dr. James B. Fine - Senior Associate Dean for Academic Affairs
Professor of Clinical Dental Medicine, CUMC
Dr. John Grbic - Director, Division of Foundational Sciences
Professor of Dental Medicine, CUMC
Dr. Joseph M. McManus - Associate Professor of Dental Medicine
Section of Population Oral Health

Dr. Letty Moss-Salentijn - Vice Dean for Curriculum Innovation and Interprofessional Education
Edward V. Zegarelli Professor of Dental Medicine (in Anatomy and Cell Biology)
Dr. Laureen Zubiaurre - Associate Dean for Admissions and Student Affairs
Associate Professor of Dental Medicine at CUMC
Past Lecturers 
2019: Hod Lipson, PhD and John Morton
2018: Dr. Ronald L. Ettinger
2017:  Douglas E. Peterson, DMD, PhD, FDS RCSEd
2016:  Donald B. Giddon, DMD, PhD
2015: Marko Vujicic, PhD
2014: Martha J. Somerman, DDS, PhD
2013: Amit Acharya, BDS, MS, PhD
2012: Joseph M. McManus, DMD, MS, MHA, MS
2011: Elizabeth A. Mertz, PhD
2010: Burton Edelstein, DDS, MPH
2009: Teresa A. Dolan, DDS, MPH
2008: Michael Glick, DMD
2007: Richard W. Valachovic, DMD, MPH
2006: Jane A. Weintraub, DDS, MPH
2005: Allan J. Formicola, DDS
2004: Chester W. Douglass, DMD, PhD
2003: Diarmuid B. Shanley, BDS, MA, MSD, DOdont(hon)
2001: Charles Bertalomi, DDS, DMSc
2000: Marjorie K. Jeffcoat, DMD
1999: Dushanka V. Kleinman, DDS, MScD
1998: Brian A. Burt, BDS, MPH, PhD
1997: Harold C. Slavkin, DDS
1996: David E. Barmes, DDSc, MPH
1995: Robert P. Langlais, DDS, MS
1994: Dominick P. DePaola, DDS, PhD
1993: Ben D. Barker, DDS, MEd
1992: David A. Nash, DMD, EdD
1991: Linda C. Niessen, DMD, MPH
1990: Myron Allukian, Jr., DDS, MPH
1989: Irwin D. Mandel, DDS, DSc(Hon) DOdon(Hon)
1988: Thomas J. Ginley, MS, PhD
1987: Lois K.Cohen, PhD
1986: Raymond P. White, Jr., DDS, PhD
1985: Lawrence H. Meskin, DDS, MPH
1984: Seymour I. Nash, DDS
1983: Alvin L. Morris, DDS, PhD
1982: D. Walter Cohen, DDS
1981: Charles A. McCallum, DMD, MD
1980:  I. Lawrence Kerr, DDS