​Community Outreach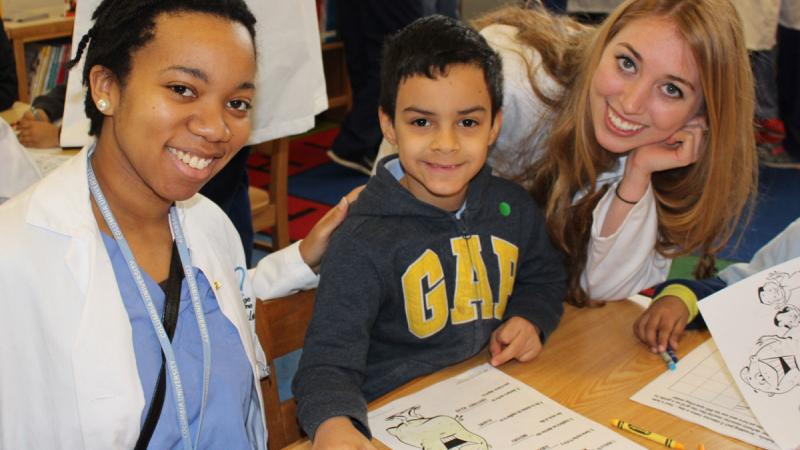 The College of Dental Medicine is deeply committed to improving the oral health of its community and the world at large. Locally, we are the major provider of much-needed oral health care services to the underserved populations of Harlem, Inwood, and Washington Heights through our clinics and a variety of free services, programs which all provide key learning opportunities for our students.
Our students are encouraged to expand their experience at the College of Dental Medicine by making service a part of their education. They volunteer in the student-run free clinic, organize health education events in schools, and participate enthusiastically in annual community events like Give Kids A Smile Day.
Community DentCare Network
The Community DentCare Network is a series of partnerships and collaborations with neighborhood schools and community health clinics, designed to provide patient-centered dental services to northern Manhattan's low-income, underserved, and uninsured residents. The network includes six school-based clinics and a Mobile Dental Center linked to five community-based practices. The program has logged more than 150,000 patient care visits in its nearly 20-year history.
Eldersmile Program
The Eldersmile Program offers prevention, education, screening and treatment services for seniors in northern Manhattan through mobile van visits to senior centers. Faculty and students work together to provide care, which includes diabetes and hypertension screening for this high-risk population.
Give Kids a Smile Day
Give Kids A Smile Day is an American Dental Association (ADA) sponsored national event that promotes oral health awareness and treatment to children in underserved areas of the country.
CHHMP Dental
Also known as the Dr. Michael Yuan Student Run Dental Free Clinic, CHHMP Dental is a student-run free clinic that partners with CHHMP Medical on the first and third Tuesdays of every month to provide free dental care to the homeless, uninsured, and undocumented people of Harlem. The clinic gives students the opportunity to work together to address the challenges of providing dental care to an underserved patient population.