​General Practice Residency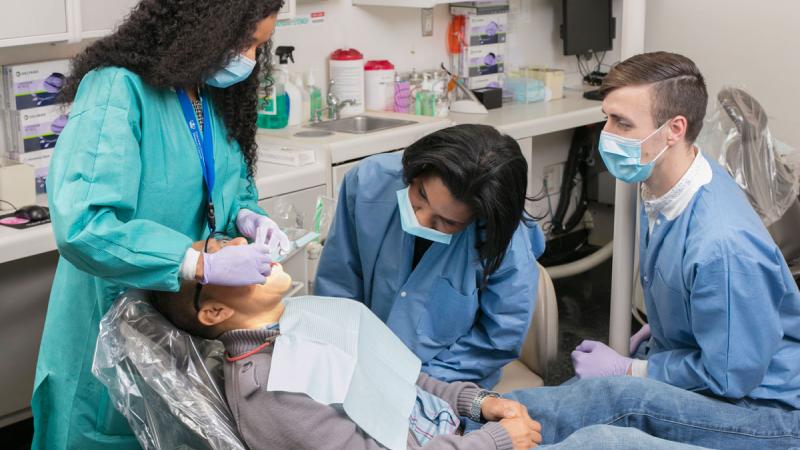 Gregory N. Bunza, DDS, MS, MPA
Program Director
| | |
| --- | --- |
| PASS/Match Program | PASS/Match |
| Application Deadline | October 15 |
| Program Start Date | July 1 |
| Number of Positions | 6 |
| Length of Program | 1 year with optional 2nd year |
Apply to the General Practice Residency 
The General Practice Residency Program is an American Dental Association CODA accredited one-year program with an optional second year. There are 6 resident positions open each year, one of which is for the optional second year. The program is sponsored by NewYork-Presbyterian Hospital and is affiliated with the College of Dental Medicine.
The General Practice Residency Program works very closely with the College of Dental Medicine's Division of Oral and Maxillofacial Surgery and strives to provide an outstanding experience in hospital dentistry. Our purpose is to offer a training program in comprehensive multidisciplinary oral health care at a level of skill and complexity beyond that achieved in predoctoral training. The program emphasizes resident training in clinical examination, diagnosis, treatment planning, and provision of sequenced comprehensive care that addresses the patient's needs, desires, and limitations. This training is focused on patients with very complex medical histories, developmental disabilities, and geriatric medical complications. There is a strong emphasis on providing dental care to members of our local community.
The General Practice Residency program is part of the NewYork-Presbyterian Hospital Dental Service, which admits and discharges its own patients. The Hospital Dental Service residents are house staff officers with the same rights, privileges, and responsibilities as other hospital residents. The Hospital Dental Service is called upon regularly by the other hospital services to provide consultation and treatment.
Attendings and resident house staff perform inpatient and ambulatory surgery in the operating room and provide outpatient care to patients from the medical center and the local community in the hospital dental service clinic and faculty practice. Patients are treated in a caring, comprehensive manner in collaboration with an exceptionally respected group of medical and dental professionals.
Rounds and on-call are a strong medical teaching component of the program. The General Practice Resident goes on morning rounds and takes on-call in accordance with hospital guidelines. When a General Practice Resident is on-call they have the same responsibilities as that of a first-year Oral and Maxillofacial Surgery resident.
The didactic component of the program and the general dentistry clinic are operated under the auspices of the Columbia University College of Dental Medicine.
Optional Second Year
The program offers a second-year position for residents who are interested in an additional year of training. Second-year residents treat more complex patients and have the opportunity to spend more time on the Oral and Maxillofacial Surgery Service. Other rotations can be arranged depending on the interests of the resident. In addition, second-year residents assume a leadership role in the teaching and supervision of first-year residents.
Didactics and Rotations
Didactics
Clinical Stomatology Conferences
Hospital and Health-Care Organization
Implantology
Introduction to Trauma
Orofacial Pain and Dysfunction
Physical Diagnosis
Seminars in Clinical Dentistry
Craniofacial Lecture Series
Head and Neck Tumor Board
Journal Club
OMFS-Orthodontics Conference
OMFS Patient Care Conference
Oral Pathology Conference
Prosthodontic Considerations of Implantology
Surgical Considerations of Implantology
Evidence-Based Dentistry (EBD)
Ambulatory care provided in dental clinic
Dental inpatient or same day surgery care 
Dental care provided in operating room
Dental rounds
Postoperative visits
Rotations or assignment to other service
Anesthesia
Emergency Department
Oral and Maxillofacial Surgery
Pediatric Dentistry
General Practice Residency Goals
First-Year
Act as a primary care provider for individuals and groups of patients. This includes: providing emergency and multidisciplinary comprehensive oral health-care; providing patient-focused care that is coordinated by the general practitioner; directing health promotion and disease prevention activities; and using advanced dental treatment modalities.
Plan and provide multidisciplinary oral health-care for a wide variety of patients including patients with special needs.
Manage the delivery of oral health-care by applying concepts of patient and practice management and quality improvement that are responsive to the changing health-care environment.
Function effectively within the hospital and other health-care environments.
Function effectively within interdisciplinary health-care teams.
Apply scientific principles to learning and oral health-care. This includes using critical thinking, evidence or outcomes-based clinical decision-making, and technology-based information retrieval systems.
Utilize the values of professional ethics, lifelong learning, patient-centered care, adaptability, and acceptance of cultural diversity in professional practice.
Understand the oral health needs of communities and engage in community service.
Second-Year
Act as primary care providers for individuals and groups of patients with more complex general dentistry and interdisciplinary patient care needs. Additionally, second-year residents may rotate through selected dental specialty areas.
Provide instruction and supervision to first-year residents and predoctoral dental students.