​​Oral and Maxillofacial Pathology Residency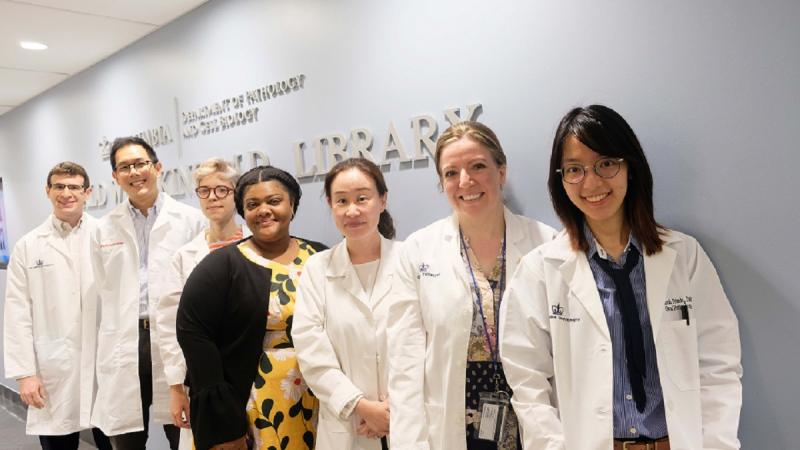 Elizabeth Philipone, DMD
Program Director, Oral & Maxillofacial Pathology Residency
 
| | |
| --- | --- |
| PASS/Match Program | No |
| Application Deadline | Applications accepted starting Aug. 1 on rolling basis. |
| Program Start Date | July 1 |
| Number of Positions | 1 |
| Length of Program | 3 years |
Apply to the Oral and Maxillofacial Pathology Residency 
About Us
The Oral and Maxillofacial Pathology Residency Program is based in both the Division of Oral & Maxillofacial Pathology at Columbia University College of Dental Medicine and the Department of Pathology & Cell Biology at Columbia University Vagelos College of Physicians and Surgeons, which are integral parts of Columbia University Irving Medical Center. Our residency program is a hospital-based program designed to train residents:
To understand and correlate the gross and microscopic characteristics of biopsy specimens in order to form an accurate diagnosis of diseased tissue(s)
To learn to write gross and microscopic descriptions
To establish and maintain an oral pathology biopsy service
To diagnose and treat oral mucosal diseases, including vesiculobullous diseases, allergic reactions, infectious disease (particularly viral and fungal), premalignant and malignant lesions, and effects of medications in the oral mucosa
To learn the effects of systemic diseases in the oral tissues
To teach oral pathology to undergraduate dental students and dental/medical residents
To present routine and unusual case reports at hospital conferences and tumor boards
To be able to perform clinical/translational research
To prepare manuscripts for publication in the peer-reviewed journals
The 3-year residency program is fully approved by the American Dental Association Council on Dental Education and qualifies the resident for the American Board of Oral and Maxillofacial Pathology examination. At the end of the residency, a Certificate in Oral and Maxillofacial Pathology Residency is awarded.
Faculty
The faculty consists of three full-time, board certified oral and maxillofacial pathologists. There are an additional 43 full-time faculty in anatomic pathology (two of which are Head & Neck Pathologists), 15 full-time faculty in clinical pathology, and 72 research faculty who have a deep interest in teaching residents, fellows, graduate students, and dental/medical students.
Residents
We currently have one resident for each training year in the program. Our residents are a diverse group with backgrounds in private practice, research, and teaching, coming from around the country and around the world. At the hospital, they are a cohesive and collegial team, working together for collective success, and go on to pursue top academic positions both here at Columbia and elsewhere.
Environment
All rotations are at the Columbia University Irving Medical Center with the exception of the forensic pathology rotation at the Office of the Chief Medical Examiner of New York City. Columbia's program has a large Resident Room with a multi-headed microscope with a connected camera and wide screen monitor as well as scores of shared textbooks and reference materials. In the resident room, each resident has his/her own desk with bookshelves, a computer and dedicated microscope. The book allowance of $500 per year may be spent on electronic or hardcover publications. The "Gross Room" for anatomic pathology has been renovated and expanded and is spacious, bright, well-ventilated and efficient. Technicians and pathology assistants (PA) do the grossing for all biopsies and large specimens are shared equally between the PAs and the residents. Newly-renovated shared post-call rooms in the hospital are available to Pathology residents.
Training Curriculum
The first 12 months of training is spent with the Anatomical Pathology (AP) residents. The AP rotations include autopsy pathology, surgical pathology, hematopathology, cytology, dermatopathology, frozen section, neuropathology, microbiology and personalized genomic medicine. The rotation in forensic pathology at the Office of the Chief Medical Examiner of New York City is optional. The time spent in various rotations are different for each resident. We expect and help each resident to have a plan for career development but also allow for serendipity and changes in focus when exciting new opportunities arise.
The next 24 months of this program are primarily devoted to Oral & Maxillofacial Pathology (OMFP).
Clinical Component
A significant portion of the OMFP segment is spent in clinical diagnosis and treatment of patients having oral mucosal disease and/or symptoms. The patients referred for treatment of oral mucosal disease are seeann in the Columbia University College of Dental Medicine clinics. The resident will be taught history taking, oral examination and prescription writing from the perspective of a board certified oral pathologist. The surgical removal of mucosal tissue (incisional and excisional biopsy) by the resident is mandatory. He/she will be taught these techniques from the perspective of the clinically oriented oral pathologist and the resident will be required to perform as many biopsies as possible.
Microscopic Component
The Oral Diagnostic Biopsy Service receives over 3,500 cases per year. These cases serve as the basis of oral pathology experience for the 24-month OMFP rotation. They are submitted by a variety of practitioners including periodontists, endodontists, general practitioners, oral surgeons and head and neck surgeons. There is also a retrospective file of more than 150,000 biopsy specimens to serve as a historical basis of study.
The resident prepares a written gross and microscopic work up of each case to be signed out. The resident will learn the histological features of the various oral disease processes common to the jaws and oral mucosa. It is also at this time that the resident will be taught to correlate the gross, clinical and radiographic features with the microscopic appearance of the various specimens. This is an intense one-on-one teaching/learning experience, which is essential to the educational development of the resident. Prior to finalizing the resident's written report, the report will be edited and explained to the resident. Also, consultation with various members of our surgical, dermatopathology and hematopathology services will be obtained by the resident prior to signout when necessary in problematic cases. Lastly, rare and interesting cases may be separated out prior to signout for conference training at a later date.
Teaching Responsibilities
The resident will be assigned a reasonable number of lectures and conferences to be delivered to our dental and postdoctoral students as well as our dental/medical residents. The resident will be guided in the preparation of lecture material and critiqued afterward.
Research Activities
Throughout the 36-month residency program, the oral pathology resident will be encouraged to spend time on appropriate research, be it basic science laboratory or a retrospective clinicopathologic report. Time can be spent after hours, and with the permission of the program director, a small amount of time may be substituted for a research project. The above is in addition to the 1-month research rotation allotted in the third year of the program. The resident will be encouraged to generate adequate data for publication.
Mentoring
Faculty support residents on individual rotations and also work closely with each resident to recommend research opportunities, additional clinical training opportunities, and to introduce them to local, national, and international colleagues in the specialty.
Responsibility
We have an extensive array of weekly teaching and didactic conferences for the residents (at least 2 each day) but believe that residents learn best by doing. There is, of course, constant supervision by faculty, but we want residents to take as much responsibility as possible for individual patients and their specimen. The residents on intraoperative consultations interface directly with the surgical team. Biopsy and resection slides are previewed by residents who initiate additional special studies as necessary prior to signout with an attending. The residents present cases in intradepartmental conferences and also in inter-departmental conferences and tumor boards, with the backup support of attending pathologists. We believe it is important for residents to have early and extensive experience in discussions of pathologic diagnosis and case management.
Fellowship Examinations and Boards
The residents in their third year are expected to successfully complete the American Academy of Oral & Maxillofacial Pathology Fellowship Examination. To prepare the residents, a number of mock fellowship/board examination will be administered prior to the exam. Following successful completion of the three-year residency program, the resident becomes eligible to take the Oral & Maxillofacial Pathology Board Certifying Examination administered by the American Board of Oral & Maxillofacial Board.
Resident Life Benefits and Housing
Salaries for the residents training at NewYork-Presbyterian Hospital are revised periodically and are competitive with similar northeast programs.
Salaries 2021-2022:
PGY1 $73,489
PGY2 $81,343
PGY3 $88,011
NewYork-Presbyterian Hospital provides house staff (residents and fellows) and their enrolled eligible dependents with hospital and medical insurance benefits, vision and dental plans. Long-term disability and professional liability insurance is provided at no charge to the house staff. Basic Life Insurance of $100,000 is also provided at no cost to the house staff employee. Dependent spending accounts and financial planning are also available. Detailed information on all benefits is available through the NYPH Graduate Medical Education Office at 212-305-6081.
Vacation Time
Residents are provided with 4 weeks of vacation per year.
Departmental Benefits
Residents are provided with $500 each academic year towards the purchase of textbooks. Residents also receive an iPad and may apply their book fund towards the purchase of educational apps and electronic textbooks. In addition, the department will fund attendance at any meeting in which the resident is presenting.
Life in NYC
Living in New York City offers many opportunities for experiencing great food, art, theater, music, sports, and more. NewYork-Presbyterian Hospital/Columbia University Medical Center is only 10-15 minutes away from midtown Manhattan by subway. Near the hospital is beautiful Fort Tyron Park within which is the Cloisters, a branch of the Metropolitan Museum of Art. Riverside Park, which stretches 4 miles along the Hudson River and offers tennis courts and biking paths, is accessible one block from the hospital.
Housing
Most residents chose to live in northern Manhattan, in the Upper West Side, or along the subway line. However, some may choose to live in New Jersey or Queens/Brooklyn. Rents vary depending on the neighborhood and size of the apartment, but can range from $1200 - $2500+ per month. A housing stipend of $3000 per academic year, is provided to residents to offset housing costs. In addition, housing located conveniently near the hospital is available through the NewYork-Presbyterian Hospital Real Estate Department.
Contact Information
Questions regarding the residency program should be directed to:
Dr. Elizabeth Philipone
ep2464@cumc.columbia.edu
212-305-4599