Reunion Weekend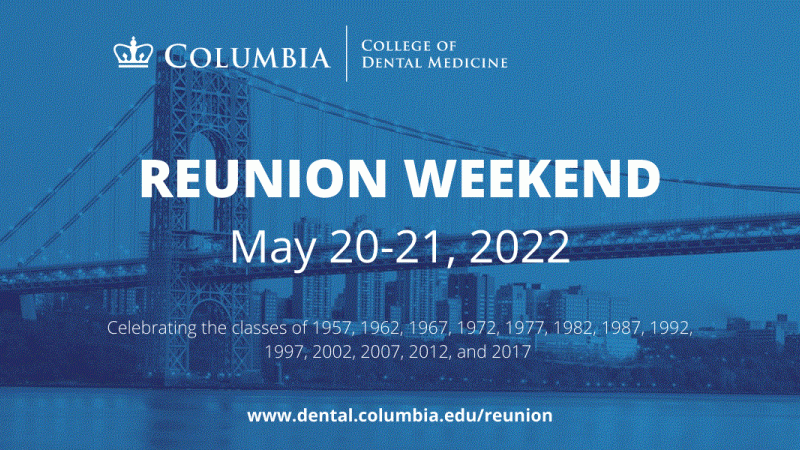 We can't wait to welcome you back! 
Reunion Weekend plans will include a Kick-off Reception on Friday, May 20 on Columbia's new Manhattanville Campus, an impressive and modern space spanning W. 125 to 135th Streets from Broadway to 12th Avenue.  
The Reunion Day program on Saturday, May 21 will be held at the Medical Center in the new Vagelos Education Center on Haven Avenue.  An array of educational workshops will be offered in the morning, followed by a brunch and speaker program highlighting innovations at CDM in clinical care and education.  We'll celebrate the reunion classes at the Recognition Luncheon, and campus tours and a closing reception will follow.
Reunion Weekend Events are subsidized by the College of Dental Medicine. To offset costs and to help confirm the number of attendees expected, a partial fee is charged for the receptions and luncheon. Donations to the Reunion Fund fully support scholarships and other fundraising initiatives and are not used towards event expenses. 
University Requirements to Attend Reunion In-Person
All visitors who enter any campus facility for any period of time, must be vaccinated, including booster, and show proof of vaccination as part of visitor attestation. All visitors will also be required to fill out a COVID-19 health attestation form.
Schedule
Friday, May 20
4:30 - 7:00 p.m. - Reunion Kickoff Reception
Oliva Tapas, 3229 Broadway at W. 130 St. - Columbia University Manhattanville Campus
Saturday, May 21
9:30 a.m. - 3:30 p.m. - Reunion Day Program
Vagelos Education Center, 104 Haven Ave. at W. 171 St. - Columbia University Irving Medical Center Campus
Select one:
A Wellness Paradigm: Styling Your Life for Optimal Patient Care
Purnima Rathi-Hernandez, DDS '92, Peds '90
Can lifestyle, meaning how we eat, sleep and manage our stresses, influence how we show up for our patients? As health professionals our personal mindset and well-being is imperative when caring for others. If not, burnout is around the corner. Just because we can walk, talk and engage in daily functions, it does not mean we are in the best of health. In fact, as healthcare professionals we may have unintentionally designed a lifestyle which may not align with our physiology and/or genetics. For instance, the daily stresses of running a practice, managing employees, managing patients, and meeting the needs of our families may leave us in a time famine for self. Meaning not having adequate time for selfcare. Long-term engagement in such a strenuous lifestyle will reliably take its toll on the body, influence its physiology, lead to development of pathology and ultimately chronic diseases. So, no matter where we are in our lifecycle and no matter what our medical resume reads, know that lifestyle can make a difference. The speaker will discuss the WHY, WHAT, WHEN and HOW around the lifestyle factors. She will provide self-care hygiene tips that one can incorporate the next day to positively influence your personal well-being and vitality.
Dental Malpractice, Informed Consent, and Risk Management
Marc Leffler, DDS '82, Esq.
The course will describe the legal components necessary to prove a dental malpractice case, based upon claims of negligence and lack of informed consent. After discussing those principles, and taking participants through each step of a lawsuit (including the optional opportunity of being cross-examined), actual case examples will be used to demonstrate how various issues can affect case outcome. The presentation will also consider risk management concepts including recordkeeping – both electronic and handwritten – and record maintenance, the consequence of premature disposal of records, the role of office staff in risk management, and means of self-protection, both before and during litigation. Participants will gain an understanding of dental malpractice and will be better able to prevent it from occurring.
Rethinking Your Patients Persistent Pain: Diagnostic and Treatment Challenges
Donald Tanenbaum, DDS '82, MPH
The lecture will focus on distinguishing somatic from neuropathic and central mediated pain and will review treatment strategies that fit each specific diagnosis. Medications, oral appliances, and injection therapeutic options will be the focus of the treatment discussion.
Refreshments and reuniting.
Greetings; Charting the Future
Dean Christian S. Stohler, DMD, DrMedDent
Reinventing Clinical Education & Personalizing Patient Care
Steve Erde, MD, PhD, Sharon Perlman, DDS, MMI, FAMIA, and Marc Pusey
Caring for the Community: Service Learning and Patient Care
Biana Roykh, DDS, MPH, and Amy Kristina Herbert, DDS '12
Class Recognition and Distinguished Alumni Awards Presented to:
Henry Nahoum, DDS '43, Ortho '52
Jeffrey Cloidt, DDS '82
Explore and rediscover the medical campus with CDM student volunteers.
Faculty Club, 4th floor, College of Physicians & Surgeons, 630 W. 168th Street
Speakers & Honorees
To learn more about our speakers and honorees...
Class Reunion Reps
Thank you to the alumni who are helping with outreach and planning. If you are interested in getting involved, please email Melissa Welsh at mmw7@columbia.edu.
Honor Your Reunion
Celebrate your reunion year and join your classmates in giving back to CDM by helping current students! Gifts to the Class Reunion Fund will support scholarships- a vital need for CDM to continue to recruit the best and brightest students.
Share Your News
Read about what your classmates have been up to and share your updates for the new Digital Class Notes.
Frequently Asked Questions
Contact Us
Melissa Welsh

Senior Director of Alumni Relations and Continuing Education