Externships in AEGD, Endodontics, Orthodontics, Periodontics, or Prosthodontics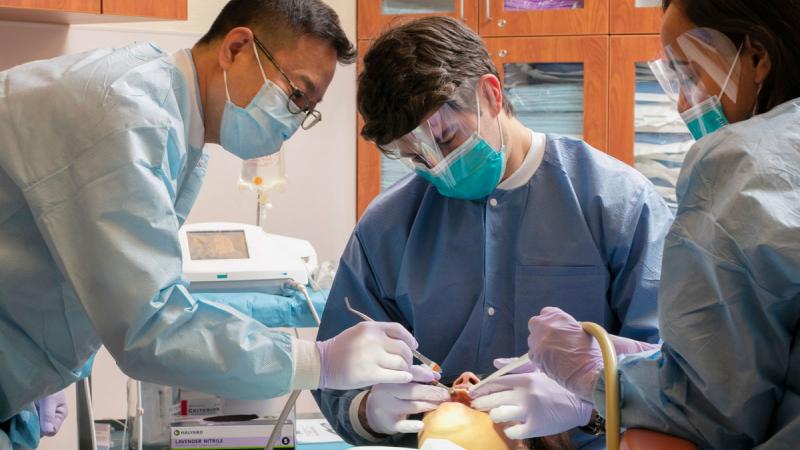 The externship program in Advanced Education in General Dentistry (AEGD), Endodontics, Orthodontics, Periodontics, or Prosthodontics is available to dentists enrolled in a GPR or AEGD residency program, and/or third or fourth-year dental students enrolled in US or Canadian dental schools who plan to apply to one of the postdoctoral programs. Externs attend classes , observe the postdoctoral students in the clinic, and participate in supervised chairside assisting. There is a limit of two externs per month/per specialty. Time commitments vary per program. Externships can be one day up to three days during the Spring semester (January through April). Visits to the periodontics program can be up to one week. Visit requests after this time period vary by program. Contact the Admissions and Student Affairs office to inquiry about availability. Applications should be submitted at least 1 month prior to the desired dates requested. 
| | |
| --- | --- |
| Advanced Education in General Dentistry (AEGD) | 1/2 day - 1 full day maximum |
| Endodontics | 1-2 full days |
| Orthodontics | 1-2 full days  |
| Periodontics | 1 day - up to one week |
| Prosthodontics | not accepting visits |
Admissions Requirements - Applications are no longer being accepted for this academic cycle. We will resume January 2023.
All applicants must be dentists enrolled in residency programs or dental students enrolled in their 3rd or 4th year of a US or Canadian dental school and be in good academic standing
A letter from the Dean or other official at the dental school/residency program granting permission for the student to participate in this program is required
Applicants must submit an application to be considered 
Applicants must be vaccinated and must provide proof of vaccination as part of the application
As a hopsital requirement, applicants must provide proof of malpractice/liability insurance from their school that grants permission to participate in clinical activities off-site or purchase a short-term student policy. 
There is no tuition charge for this program, but participants must find their own housing and pay for their transportation and living expenses.
To apply please download the application. Submit the completed application along with supporting documentation to cdm-pgadmissions@cumc.columbia.edu
If you have additional questions, write to: cdm-pgadmissions@cumc.columbia.edu