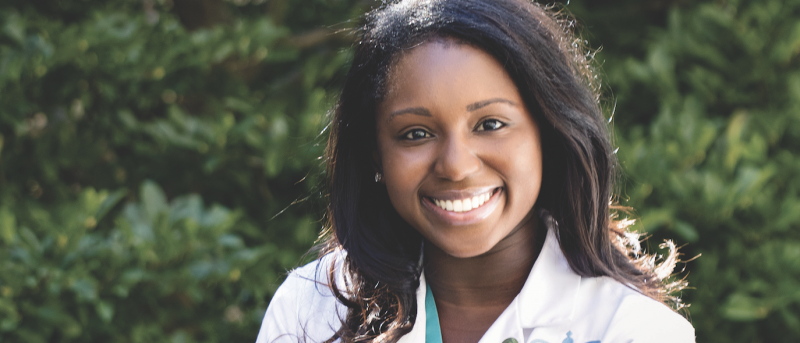 Elizabeth Fadoju'17: Inspired by Great Educators, She Pursues Dual Dentistry, Education Degrees
Elizabeth Fadoju'17 knows exactly what a difference one individual can make in sparking and encouraging a young person's career interests.
In Ms. Fadoju's case, it started with her mom. Mrs. Fadoju began her own career as a midwife in Lagos, Nigeria, before eventually moving to Baltimore, Md., with 4-year-old Elizabeth and the rest of their family. There, Mrs. Fadoju earned her nursing degree and encouraged her daughter to become a physician.
Ms. Fadoju grew up to earn a scholarship to the University of Maryland at College Park, but it was not easy meeting the scholarship's minimum GPA requirement while pursuing a pre-med degree. In her first year, she experienced moments of deep discouragement.
"As a freshman, I had to take organic chemistry, the big, bad wolf!" she says. Her GPA took a hit, and she started second-guessing her academic choices. But Mrs. Fadoju, as well as a professor at Maryland, encouraged Ms. Fadoju to keep going.
That same year, Ms. Fadoju attended the Summer Medical and Dental Education Program at Columbia, the six-week residential program for first- and second-year college students interested in medicine and dentistry. There, she discovered the innovations taking place in dental medicine at Columbia. She was awestruck by experiences like the lectures Candice Zemnick, DMD, associate professor of dental medicine, gave on the use of maxillofacial prosthetics to fabricate new eyes and noses for people who suffer traumas from cancer.
"I was overwhelmed with the possibilities that the field offered, by the impact I might make as a health provider, and the opportunities that an education from Columbia would provide," says Ms. Fadoju.
She also met Dennis Mitchell, DDS, associate professor of dental medicine and senior associate dean for diversity (and now also Columbia vice provost for faculty diversity). Dr. Mitchell took notice of Ms. Fadoju's growing curiosity in dental medicine and encouraged her to persevere in her undergraduate studies.
She finished at Maryland, earning a BS degree in general biology with a minor in Spanish language and culture. She credits her summer at Columbia for her decision to pursue dental medicine as a career.
"The day I found out I got accepted into the DDS program at Columbia was, as corny as it sounds, truly a dream come true after many ups and downs in undergrad," Ms. Fadoju says. "Dental school is dental school, but the people at Columbia make up a diverse amalgam (dentistry pun intended) of unique, genuine, and beyond-talented individuals."
Now well into her studies at the College of Dental Medicine, Ms. Fadoju is more focused than ever on pursuing her career. A U.S. Navy Health Professions Scholar, she also is pursuing a dual degree at Teachers College.
"My life might have turned out a lot differently had it not been for educators, so I'm incorporating that degree into my studies and ideas for work as a professional," Ms. Fadoju says. "It's my own affirmation of a key principle at Teachers College: Great educators push students to believe that success is both possible and expected."
This was adapted from a profile originally published on the Columbia Registrar's Office website.