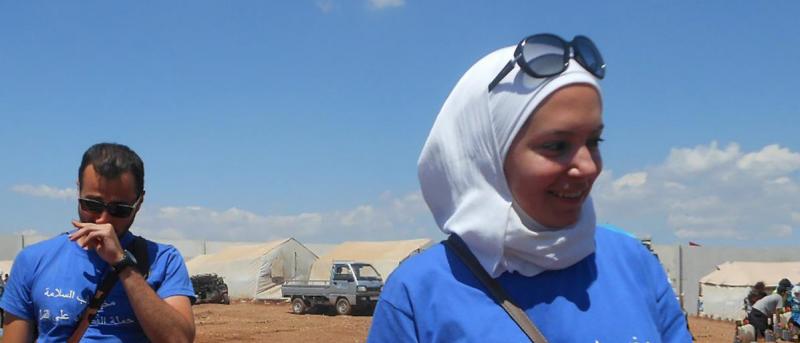 Bana Al Haydar: Taking a Long Route to CDM
The two settings for Bana Al Haydar's clearest childhood memories stand in stark contrast: One was her mother's dental practice in Idlib, Syria, where Dr. Al Haydar grew up; the other was New York City, where she visited her father each summer.  
But Dr. Al Haydar's path had many turns before she started her periodontics residency at CDM last year. She has been a dentist in a war-torn city. A refugee in Turkey. A community health worker serving displaced Syrians like herself. And a young woman who, in short order, lost her mother, lost her job, left her family, claimed asylum, and found a way to pursue her dream to study periodontics at Columbia University. 
Dr. Al Haydar grew up watching her mother practice dentistry and was inspired to follow her path. "She introduced me to all of it: her professionalism, interaction with patients, and the science. She pushed my interest in special surgery." 
After earning her dental degree, Dr. Al Haydar pursued her master's degree in removable prosthodontics while working alongside her mother. But troubling turns were ahead. The beginning of the war in Syria surrounded them. It was 2011.
"At first it was just backlashes between rebels and the regime," she says, but it didn't keep her and her mother from going to work each day.
For two years, mother and daughter worked together while hoping the violence would subside. Then a new life-threatening reality faced the family: Dr. Al Haydar's mother had cancer. When her mother could no longer work, Dr. Al Haydar took over the practice. 
Clashes and barrel bombs did not keep patients away. "Patients were in pain," Dr. Al Haydar says. "We had to keep the office running." She treated patients even through blackouts, hand cranking a generator every 15 minutes to keep power on through treatment. 
After three months of blackouts, the family fled to Turkey so Dr. Al Haydar's mother could seek chemotherapy. Dr. Al Haydar found work in Turkey as a community health officer helping fellow refugees find and access health care. Within a year, she was managing a program of 400 health workers.
The work made her own difficult circumstances more bearable. "Helping others was a source of strength," says Dr. Al Haydar, who also practiced dentistry on a volunteer basis on the weekend.  After Dr. Al Haydar's mother died, the community health program that employed Dr. Al Haydar lost its funding, stripping away Dr. Al Haydar's income and work visa. 
With few options, Dr. Al Haydar decided to use her tourist visa to the United States before it expired. She arrived in Washington, D.C., in November 2016, the same month the United States elected a new president who would seek to ban travelers from her country. Dr. Al Haydar applied for asylum so she could stay and study periodontology. 
By the time the president issued an executive order banning travelers from Syria and several other countries, Dr. Al Haydar was staying with fellow refugees, practicing English, and applying for dental residencies.
"I was starting from zero, trying to build connections," Dr. Al Haydar says. She met a periodontist who had studied at Columbia and recommended the program. 
When she was invited to interview at CDM, she called her father and brother in Syria. Even though she could not call her mother, "I knew she would be happy. She wanted me to have an opportunity to achieve my full potential." Dr. Al Haydar impressed the faculty.
"I heard about her background as a refugee and her humanitarian work experience in Turkey," says Philip Kang, DDS, director of the postgraduate periodontics program. "I could see how motivated and dedicated she was in pursuing her career."
Dr. Al Haydar was accepted and started her program in July 2018. She calls it a dream come true. "When I was in school in Syria, we read Papapanou, Tarnow, Fletcher," she says of the faculty at CDM. "Now they teach me every day!
"I think in a way everyone I met here is someone that my mother has sent me," says Dr. Al Haydar. "The amount of support I have received has been enormous. It assures me that all of my efforts to be here were worth it, not only for education, but also for the people I've met and proudly call my family."
In February, Dr. Al Haydar was awarded the Kaslick scholarship, named for the chair of the CDM Visiting Professor Program, Ralph Kaslick (CC'56, CDM'59,'62). Dr. Al Haydar plans to serve vulnerable communities while conducting research and establishing her own practice.