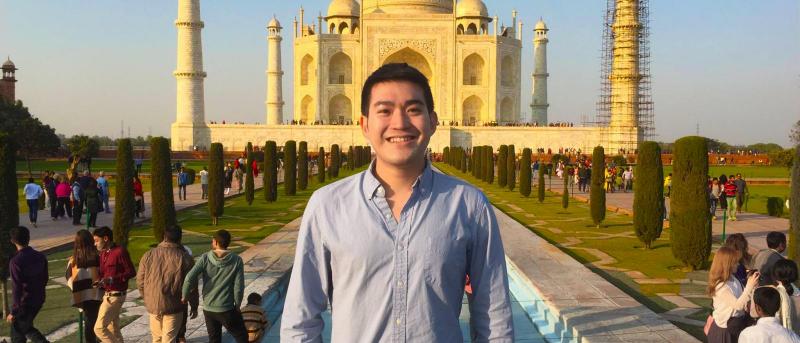 CDM Class of 2019: Ben Wang
New Jersey native Ben Wang was in the summer between his junior and senior years as an anthropology major at Duke University, volunteering with a farm-to-school program in a rural community, when he discovered a passion for oral health. "The community I was working with had striking oral health problems," he says. "Disparities were a big problem, and much of oral health disease is preventable—yet we still see it a lot both in the U.S. and abroad."
As a student at the College of Dental Medicine, Wang has immersed himself in the widest possible array of learning experiences. He worked in research and development for Colgate-Palmolive and provided clinical care as an extern at the St. Regis Mohawk Health Services in northern New York. He traveled to Mumbai to learn about oral and public health infrastructure in India, did data science research with Columbia's Center for Bioinformatics and Data Analytics in Oral Health, participated in overseas education exchange programs in both Romania and Croatia, and served as co-president of the Michael Yuan Student-Run Free Dental Clinic, a companion program to the medical school's Columbia-Harlem Homeless Clinic. During the summers, he taught English in Taiwan, Hong Kong, and Shanghai.
Says Wang: "I thought it was important to look at dentistry from a lot of perspectives that other people don't necessarily think about."
What made Columbia the best choice for your dental studies?
Columbia is one of the few schools with an integrated medical curriculum. I see my future career as a change agent, integrating oral health care with the healthcare system at large, and I saw integration of oral health knowledge with medical knowledge as very important with where I wanted to take my career.
You're a second lieutenant in the Air Force, headed to San Antonio, TX, for a residency in comprehensive dentistry at the branch's largest healthcare facility. What are you looking forward to?
The military excites me because the way healthcare is practiced is unique from civilian healthcare. It's kind of a public health approach—whatever people need is covered by the military healthcare system.
How have the patients with whom you've trained as a student affected your approach to dentistry?
The first time I delivered a complete set of dentures to a patient and he showed me in the mirror what his new teeth looked like, he cried. He was a grown man in his 70s, with tears of joy. Sometimes we don't think about teeth as having the same allure as body parts that maybe receive more attention.
Sometimes people take them for granted and it's not until you have to part with them that you realize how important they are to one's personhood.
What did you learn as co-president of the free clinic?
As students, we were both learning dentistry and figuring out how to run a clinic providing services to people with no other option—because they're uninsured, undocumented, refugees, have no money—all in compliance with New York State regulations. It was a lot to figure out. Now the clinic has expanded to include portable digital x-rays and providing cleanings.
You've blazed an unconventional trail at Columbia. How would you advise others with unique interests?
What's been great about Columbia is that there are a lot of resources at the university as a whole that allowed me to entertain my interests. Seek out opportunities that excite you—it's not always easy, but if you find your own path, you can really accomplish a lot as a dental student at CDM.
Topics
Campus News, Dentistry