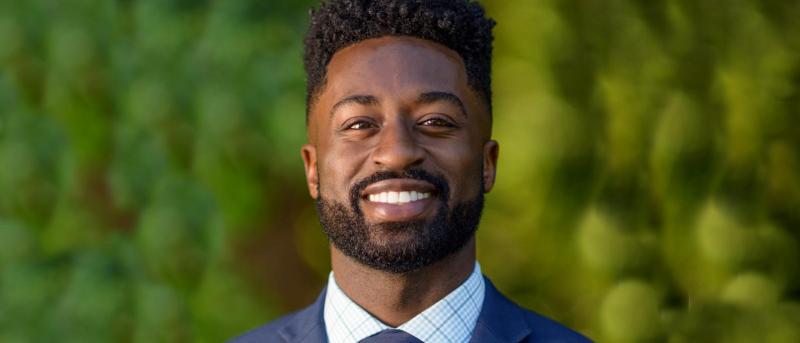 CDM Class of 2019: Brandon McDonald
When 10-year-old Brandon McDonald received a referral from his childhood dentist to the orthodontist who would fit him with braces, the youngster came out with a whole lot more than straight teeth and a winning smile. McDonald got a glimpse of the lifestyle he aspired to. As he matured, so did McDonald's notion of what a career in dentistry could afford—the opportunity to promote health among historically under-served people, including people of color and those whose access to adequate healthcare has been constrained by poverty. "And because the positive health behaviors we adopt as kids can last a lifetime," he says, "I chose pediatric dentistry."
As a dental student, McDonald has been active in the American Association of Pediatric Dentists, and served as a mentor for a pre-college program that provides enrichment for academically talented minority and economically disadvantaged middle and high school students interested in careers in science.
How does pediatric dentistry affect population health?
If you lose your baby teeth too early because of cavities, sometimes there isn't enough space in the mouth for the adult teeth, which can cause more problems later on. Promoting a child's oral health can save them money, time, and sick days at school and work over their entire lifetime. And honestly, it's a lot easier for a kid to modify their behavior than for an adult to make lasting changes.
Why focus on patients from historically marginalized populations?
I want to work in low-income and minority communities because they're less well served. On the patient side, there's a more trusting relationship because of the history of this country and the mistreatment by doctors and the healthcare system that minority populations have experienced. And as a provider, I've seen that my black and brown patients are particularly appreciative of my training, my care; it makes me want to serve that community more. It's cyclical.
How has your clinical training affected your patient care priorities? I had a 22-year-old patient whose upper and lower teeth were badly rotted. While that can be due to heavy drug use, he had just been avoiding dentists and had entirely stopped brushing his teeth a year or two earlier. One faculty member suggested we pull all his teeth and give him dentures; over time, however, that can allow the shape of the jaw, itself, to change and eliminate the possibility of implants. So I talked to the specialists and we came up with a plan to both fit him with dentures immediately, and still preserve the possibility of implants in the future. Sadly, he missed his next appointment and he was lost to follow-up. Even so, I learned that if you advocate for your patients, you'll see the quality of care they're offered match what you want them to receive. I could have gone with the first opinion, but it didn't seem right to me. It was too aggressive. I wanted to support his ability to determine his own outcomes.
What's your next career step?
I'll do my residency in pediatric dentistry at Montefiore. It's in the Bronx, at one of the biggest hospitals. I'll get to treat a lot of complex cases there, and since there are multiple sites, I'll have exposure to different modes of care delivery. If I want to work in my target population of low-income minorities, this will be the training to prepare me for it. It's intense, but I think my medical knowledge from Columbia will serve me well during the program.
Any advice for future students?
Try to understand each patient's situation and work with them to provide them the best possible quality of care.
Topics
Campus News, Dentistry, Education