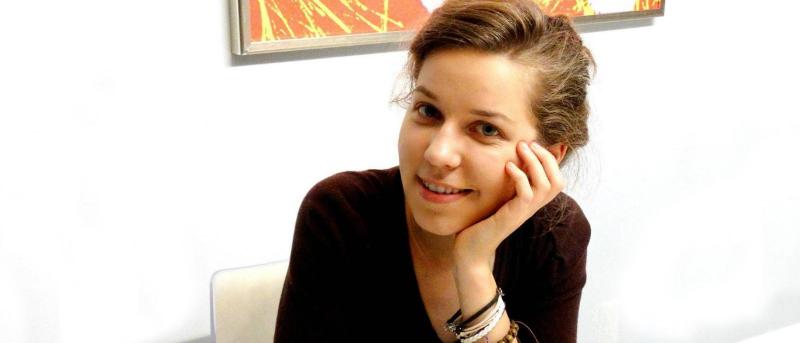 CDM Class of 2019: Daria Vasilyeva
In the year since her 25th birthday, Daria Vasilyeva visited every state in the U.S., by car. "Montana is beautiful," she says, "and I have a really soft spot for New Mexico—the energy there is very different; it's extraterrestrial." On her 26th birthday, just a few weeks prior to her graduation from Columbia's College of Dental Medicine, Vasilyeva received her American citizenship.
Dr. Vasilyeva embarked on her training in dentistry as a 16-year-old in her native Russia, where young people transition directly from high school to professional training. When she moved to the U.S. three years later, she had to start over again, by applying for a bachelor's degree. Proceeding to dental school, however, was never in question: "I figured I tried it, I liked it, that's the way to go," she says, "and now I'm close to being out of dental school again."
While earning her DDS, Vasilyeva also earned a master's degree at Teachers College, and volunteered with an array of tutoring and science enrichment programs for high school and college students. "My dream is to stay in academia," she says. "Teaching is something I'm passionate about. There's a lot of research on teaching and learning, but not much of it gets translated into professional health schools. That's what I would like to work on."
What's your personal philosophy?
My life is guided by the 'why not' principle and whim. I have a picture from every state. It's a silly accomplishment, but an accomplishment nonetheless.
What made Columbia the best choice for your dental training?
I grew up in a big city in Russia—St. Petersburg—and I need a big city to feel alive. Studying in New York City had to happen and Columbia made me an offer.
How did you choose your specialty?
As an oral pathologist, I'll be spending a lot of time with microscopes and slides. I'm really excited to solve puzzles all day—that's what drives me.
How did the patients you met in clinic affect you?
Before we started seeing patients in clinic, I was dreading it a little bit. I'm an introvert, and I was anticipating that having to interact with people so much would be really draining. But the satisfaction you get is unbeatable. I really liked it. I'm really grateful to patients who have the patience for learning dentists. My first denture case, [I made] a solid B-plus denture, but the messages the patient sent me afterwards, it was like his whole life changed. I don't have to cover my mouth anymore, he told me. I'm not ashamed. That still warms my heart. I'm really grateful for being able to feel like I was part of a life-changing experience.
What advice do you have for future students?
Keep your eyes on the bigger picture and cherish the good patients; find strength in those experiences, knowing there are people who are grateful for your work. And get out of the house as much as possible. I would pretend I wasn't a dental student, do something different to detach myself for a few hours. Like in a long-term relationship, sometimes you have to take a little break and come back to appreciate the good things. And lastly, it's important to establish a support system, or figure out what makes you feel better. Sometimes you won't feel good and there's nothing wrong with that, but you have to have your coping strategies ready—a support circle or things you find comforting. Dental training is not all making smiles. School is hard work and it can be really draining. But in the end, it's all worth it.