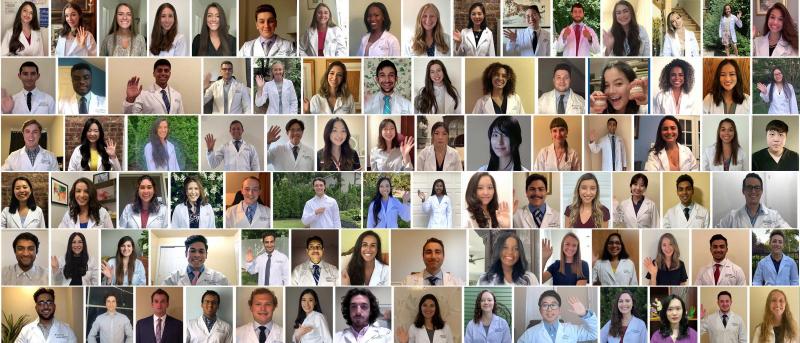 Class of 2024 Welcomed in Virtual Ceremony
At Columbia University's College of Dental Medicine (CDM), the White Coat Ceremony is one of the highlights of orientation week. It marks the start of dental training and formally welcomes incoming students to CDM and the profession of dentistry. This year, CDM's Class of 2024 and their families gathered online on Aug. 12 for a digital edition of the ceremony.
During a traditional CDM White Coat Ceremony, students are called onto a stage and helped into their first white coat by a faculty member. In the remote adaptation, each of the 88 new students was announced by Dana Wolf, DMD, associate dean for predoctoral academic and student affairs, and appeared onscreen in a brief video clip. Many of the clips featured students smiling and waving as they sported self-donned white coats, which had been shipped to them for the occasion.
"Like all of you, the faculty and I are disappointed that the COVID pandemic has deprived you of the opportunity to be personally 'coated' by a member of the faculty," said Wolf in her welcome address. "Nonetheless, with this virtual 'self-coating' ceremony, consider the donning of your white coat today to constitute a symbolic initiation into the profession of dentistry."
The class was greeted in turn by Christian Stohler, DMD, DrMedDent, dean of CDM; Kenneth Catandella, senior executive director of Columbia Alumni Association and University Relations; and orientation co-chairs Nicholas Arroyo'23 and Caroline Greco'23. Roseanna Graham, DDS, PhD, the James Winston Benfield Associate Professor of Operative Dentistry at CUMC, then led the students in reciting the honor code, in which they pledged their commitment "to the highest standards of ethical and professional conduct."
The White Coat Ceremony was held amid orientation week, a period designed to ease the transition into dental school through activities (also held online this year) such as information sessions, introductions to administrators and faculty, and "self, social, and global awareness"­­ training, which guides participants in exploring identity and privilege and prepares them to create inclusive environments. Students also had the opportunity to meet their classmates over the summer through virtual games and social events.
In her closing remarks, Wolf summarized the measures taken by CDM to adapt to the pandemic and expressed her confidence in the new class. "It is important to know, Class of 2024, that even though you are not physically with us, you are very much a part of the CDM family. And we will be making a concerted effort to make you feel part of our academic community."
About the Class of 2024
CDM had just over 1,500 applicants for the Class of 2024, of which 11% were accepted and 88 enrolled. Women are well represented in the class: nearly 63% identify as female. Fifteen students belong to underrepresented minority groups, including three students who participated in the Summer Health Professions Enrichment Program. The average Dental Admission Test, or DAT, score for the class was about 5 points higher than the national average.
Topics
Campus News, Education