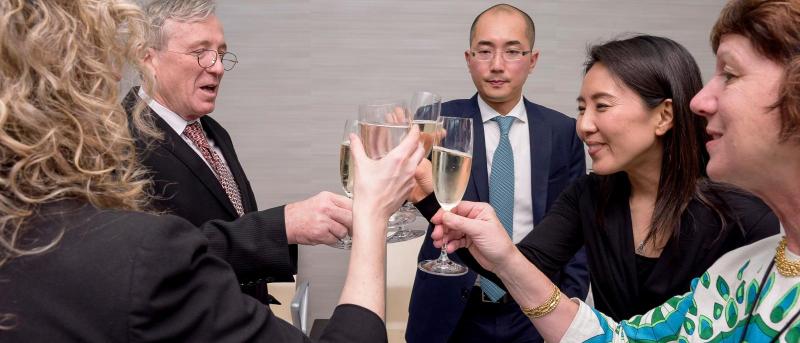 Columbia Celebrates Center for Precision Dental Medicine
The College of Dental Medicine welcomed 150 donors, alumni, local leaders, and other members of the community on December 5 to dedicate the Center for Precision Dental Medicine, a new addition to the College designed to help transform the field of dentistry.
Breathing new life into the 90-year-old Vanderbilt Clinic, the dental education and patient care suite has 48 new dental operatories outfitted with first-of-its-kind technology developed specifically for Columbia's vision of stretching the boundaries of dentistry. This Center adds to the existing 150 chairs where dental students already treat patients under faculty supervision. Through passive data collection tools, the Center will help tailor care to each patient and offer quantifiable feedback to each student. Electronic dental records will be tied to health records, better enabling dentists, as well as other providers, to treat patients based on comprehensive health information rather than just oral disease. Perhaps most exciting, the Center for Precision Dental Medicine will facilitate research that could help future dentists treat patients based on thousands of parameters—genomic, environmental, and more—rather than the handful used today.
"The College of Dental Medicine was founded 100 years ago with a disruptive idea that dentistry should be taught and practiced within the context of the whole body," said Dean Christian S. Stohler, DMD, DrMedDent, dean of the College of Dental Medicine. "The Center for Precision Dental Medicine gives us the capacity to realize this founding vision in the information age."
Other speakers included Lee Goldman, MD, dean of the Faculties of Health Sciences and Medicine and chief executive of Columbia University Medical Center, Roy Vagelos, MD, chair of the Board of Advisors for the medical center, and Jeannette Wing, PhD, the Avanessians Director of the Columbia University Data Science Institute. A written statement by Lee C. Bollinger, president of the university, was also read. After a brief video and remarks, visitors were invited to a reception and a self-guided tour of the new facility, designed by Pei Cobb Freed with Jeffrey Berman as the architect of record.
Demonstrations of the RFID technology used to track patient wait times and equipment use, as well as the exhibition of new dental chairs that measure data associated with patient stress levels and are capable of streaming video that make possible tailored instruction, fascinated visitors, many of whom were practicing dentists, as well as alumni. But more than the suite they visited or the equipment they tested, many guests were left imagining the potential impact on the field.
"This center is truly going to disrupt dentistry," said Dr. Wing in her remarks. "Through this new technology and data scientists' use of machine learning, we can find answers to questions like, "Are we making the most efficient use of our equipment? How can we make patients more comfortable? What procedure will produce the strongest outcomes for patients?"
Columbia University's new Center for Precision Dental Medicine will revolutionize how oral health care is taught, performed and received. The technologies developed for Columbia and application of precision medicine will help accomplish two goals: to offer personalized dental care and to make evidence-based connections between oral and overall health a reality.
There aren't many industries – medical or otherwise – that have not taken advantage of our information age. Thanks to Columbia University College of Dental Medicine's innovation and commitment to excellence, the dental field is being propelled into the future.