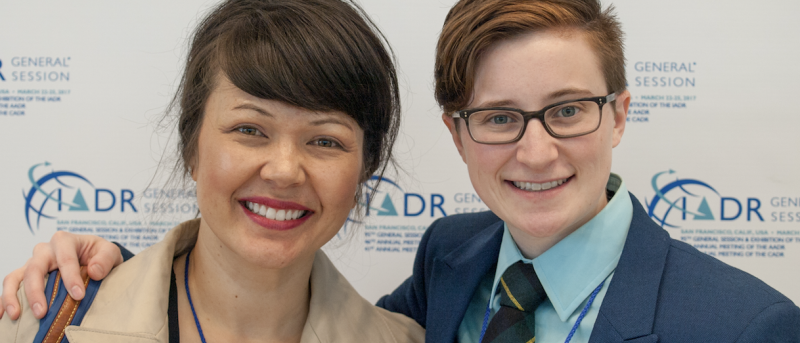 Columbia Dental Student Wins AADR Hatton Award
In recognition of her research in regenerative medicine, Columbia dental student Mallory Morse '19 received an American Association for Dental Research 2017 Hatton Award for outstanding oral health research by a junior investigator as well as an AADR Bloc Travel Grant. Morse, an aspiring oral surgeon from Texas, placed first out of nine finalists for her research on TMJ stem cell regeneration. Her research was conducted under the mentorship of Mildred C. Embree, DMD, PhD, assistant professor of dental medicine, whose research has identified stem cells that can make new cartilage and repair damaged joints.
The IADR Unilever Hatton Competition and Awards, were held in conjunction with the 95th IADR/AADR/CADR General Session & Exhibition in San Francisco, California on March 21, 2017.
"I am delighted that Mallory received this well-deserved honor," said Dean Christian S. Stohler, DMD, DrMedDent. "It is a testament to Mallory's talent and hard work as well as to the tremendous mentorship Dr. Embree offered."
Mallory wasn't the only CDM winner at the General Session & Exhibition; Dean Stohler and Panos N. Papapanou, DDS, PhD, professor and chair of the Section of Oral, Diagnostic and Rehabilitation Sciences, were among the others who took home awards. 
"Mallory is a talented and hardworking student and I'm so proud of her accomplishments," said Dr. Embree. "She is authentically passionate about science, which shines through in her research." 
In this Q&A, Ms. Morse reflects on what led her to dentistry, and how her current research interests have developed.
College of Dental Medicine: Tell us how you became interested in dentistry.
Mallory Morse: I became interested in dentistry at a young age while watching my father, a general dentist in Arlington, Texas, practice. So I always considered dentistry as a possible career. In college, I really started to love science and medicine, but also art and technology. And I began to appreciate how dentistry could combine my intellectual pursuits and also provide a fulfilling career. 
CDM: What made you want to study regenerative medicine?
MM: I was intrigued by the possibilities of this research in terms of its translatability to the clinic and potential to develop minimally invasive treatments for TMJ trauma, disorders, and diseases. But more importantly, when I first spoke with Dr. Embree, I was immediately struck by her enthusiasm and dedication to mentorship. I knew her lab would provide a supportive environment where I could grow as a scientist. 
CDM: Can you describe your research and its goals?
MM: We wanted to explore and further characterize the properties of stem cells found in the temporomandibular joint, or TMJ, which connects the jaw to the skull. First, we analyzed potential proteins to reliably identify the stem cells and examine them throughout development. Then we traced how the stem cells contribute to the tissues that form the TMJ condyle, and studied how the stem cells react in the context of inflammatory arthritis. The goal of this project was to advance the knowledge base about TMJ stem cells in order to begin to understand how the stem cells could contribute to TMJ regeneration as a possible clinical therapy. 
CDM: What does winning the Hatton Award mean to you?
MM: This award is incredibly validating for the hard work that I've put in at the lab over the last year. It's also a wonderful success for our lab. Not only does it inspire me to maintain my commitment to research throughout my career, it inspires our lab to continue pursuing this avenue of research. The award shows us that this research is interesting to people outside of our field and could potentially make a significant impact on human clinical disease.