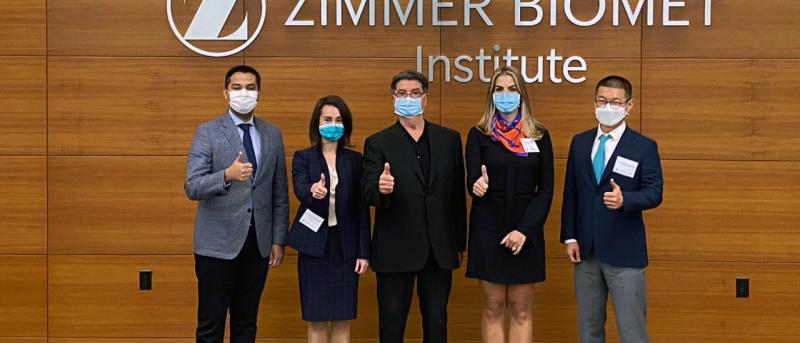 Columbia Dentists Team up With Zimmer Biomet for Educational Implant Therapy Program
On Nov. 6, seven faculty members from the Columbia University College of Dental Medicine (CDM) traveled to Parsippany, NJ, to lead a daylong educational event about implant therapy. The program, hosted by the Zimmer Biomet Institute, had more than 500 virtual participants and 30 in-person attendees.
Headlining the event—titled "Controversies and Innovations: Immediate Therapy and Management of Esthetic Failure Cases"—was Dennis Tarnow, DDS, clinical professor of dental medicine at CUMC and an internationally recognized expert in implant dentistry. Dr. Tarnow delivered multiple lectures over the course of the program on topics such as the timing of implant placement and how to manage cases where implants fail to meet a patient's aesthetic standards.
The program also featured point-counterpoint and Q&A sessions facilitated CDM Implant Fellows Laila Akhlaghi, DDS, Ioana Chesnoiu Matei, DDS, and Jaffer Shariff, DDS,  as well as Seung Jun Song, DMD. These discussions tackled the benefits and drawbacks to various approaches in implantology.
CDM's collaboration with Zimmer Biomet on the Nov. 6 program dovetails with the mission of the CDM Implant Fellowship, created in October 2019 through a gift from Zimmer Biomet, to expand the skills and leadership of early-career faculty in the area of dental implant and reconstructive therapies. The fellowship will continue through June 2021.
Topics
Dentistry, Education