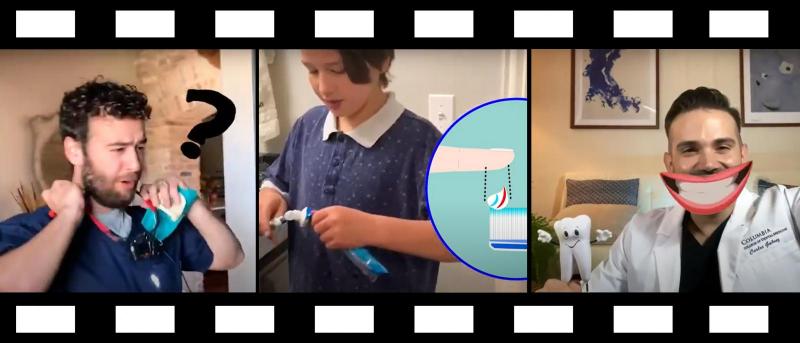 Columbia HDA Student Chapter Places Third in Orgullo Competition
The Hispanic Student Dental Association (HSDA) chapter at Columbia's College of Dental Medicine has won third place in the 2020 Orgullo ("Pride") Competition for its educational video providing oral hygiene guidance to kids.
The Orgullo contest is held annually by the Hispanic Dental Association (HDA) and Procter and Gamble and solicits entries from HSDA chapters across the United States. For this year's competition, students were invited to produce and submit short videos that promote oral health management and disease prevention. Winners were announced at the 2020 HDA annual meeting, which took place virtually in early December.
CDM HSDA's winning video, below, features Carlos Galvez'22, Ashton Alarcón'23, and Alarcón's brother in demonstrating proper toothbrushing and flossing.
"Now that schools have transitioned to a virtual platform and kids are spending more time at home, they may have more access to snacks and foods that increase the risk of caries," said Galvez, who is the CDM chapter president. To reach children and their caregivers, "we created a story that was relatable and fun but also full of important oral health habits."
CDM's HSDA chapter will receive $1,500 for placing third in the Orgullo competition. Videos were judged on prevention message, creativity, and use of a Crest or Oral-B product.
Galvez said the chapter plans to continue creating videos to promote oral health for different audiences, such as seniors and pregnant women.