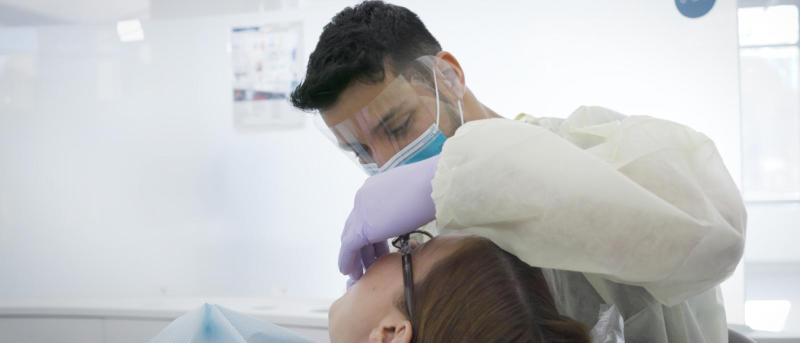 Delta Dental Community Care Foundation Grant Will Support Patient Care
Columbia University College of Dental Medicine (CDM) will receive a 3-year, $600,000 Delta Dental Community Care Foundation grant. The grant will enable CDM to expand services and access to care for underserved members of the community.
CDM is the largest provider of oral health care in the northern Manhattan communities of Inwood, Harlem, and Washington Heights, as well as south Bronx, which are federally designated as areas underserved in health care. The College provides state-of-the-art, comprehensive dental care through a network of teaching clinics and community programs at which students and faculty see approximately 30,000 patients (100,000 visits) annually. Most of those being served are covered only by Medicaid. Many others have no insurance at all.
"The goals of Delta Dental's Community Care Foundation grants and those of CDM's Community DentCare Network are perfectly aligned," says Biana Roykh, DDS, MPH, an associate professor of dental medicine at the Columbia University Irving Medical Center and the senior associate dean for clinical affairs at the College of Dental Medicine. "In particular, CDM, through its clinics and mobile health vans, continues to address critical health care disparities and unmet oral health care needs of those living in poverty, underrepresented minority communities, people with mobility challenges and older adults who often confront multiple barriers to care."
The Delta Dental Community Care Foundation grant will enable the College to enhance and expand its already extensive community outreach and to fill in gaps in eligible services that, even with the significantly reduced fees offered in the student clinics, patients may not be able to afford.
"This grant will offset unreimbursed care for services rendered in CDM's predoctoral education clinic, where we see a significant amount of untreated baseline dental disease" says Roykh.
The grant, Roykh says, will also help to support a new program that the College will pilot in the second half of 2023 designed to bridge disparities in healthcare that disproportionately affect patients with special needs.
Expanding the scope of covered oral health services for patients of CDM will have a profound and immediate impact on their wellbeing. "CDM's philosophy of care is that oral health cannot be disconnected from overall health," says Roykh.  "A healthy smile has significant value and effect on the social, emotional, and physical determinants of a person's ability to live their best life and thrive. The foundation's gift is also an inspirational source of support for the CDM faculty, students and staff who uphold these values. "