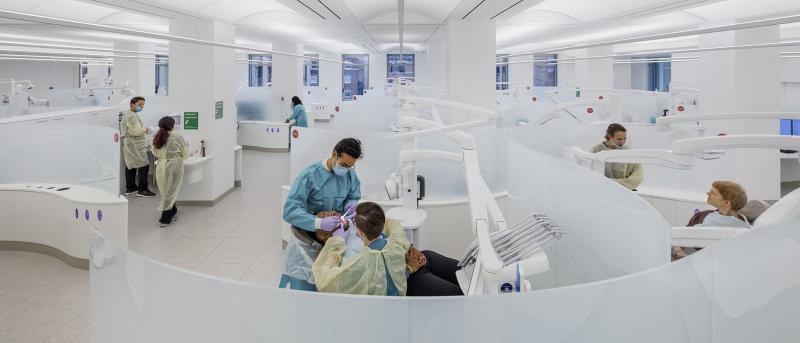 Dentistry's Revolution
Columbia looks toward a data-driven future
A patient takes her seat in the dentist's office. On her last visit, six months ago, she found that when the chair tipped back too far, a problem in her back flared up, causing serious pain. She and the hygienist went through several minutes of uncomfortable trial and error to figure out the range of safe positions. Now, the patient is nervous. Will they need to go through the whole procedure again?
Luckily for her, there's no need to worry. On the patient's last visit, a processor installed in the chair recorded her seating preferences and transmitted them to her electronic health record, or EHR. Now, as the hygienist brings up the patient's file, the EHR sends her parameters back to the chair, which then automatically adjusts to stay within her comfort zone.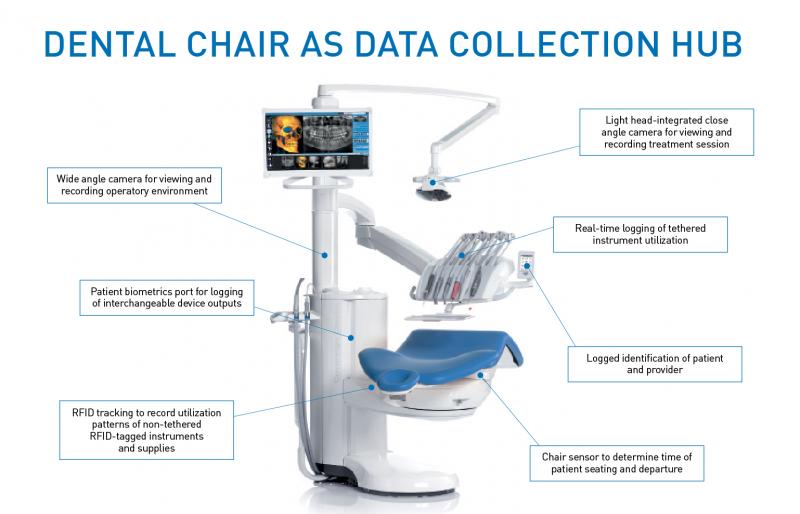 One day, dentists will use such personal information— captured in perhaps a thousand data points or more—to build a detailed portrait of every patient and then tailor treatment to his or her specific needs. Columbia is leading the way toward this age of personalized dentistry, using digital technology and information science to stretch the boundaries of dental research and education.
"We want to redefine dentistry in a health environment, where you no longer look at siloes of care," says Christian Stohler, DMD, DrMedDent, dean of CDM. "You look at totally integrated care, with all the diseases that co-exist, and try to customize care for that particular person."
The digital revolution is reshaping the dental profession, Dr. Stohler says. "We have been doing business in a certain way for a long time. Suddenly, new technologies allow you to do it differently."
CDM's pioneering work in information science and precision dentistry comes from two new entities at the college, the Center for Bioinformatics and Data Analytics in Oral Health and a state-of-the-art facility for preclinical and clinical instruction and patient care.
Insights From Health Records
CDM launched the Center for Bioinformatics and Data Analytics in Oral Health in 2016. Joseph Finkelstein, MD, PhD, associate professor of dental bioinformatics at CUMC, and Joseph Errante, DDS, senior associate dean for clinical affairs, co-founded the center and co-lead it. 
The discipline called informatics uses data to generate knowledge that, when applied correctly, leads to wisdom, says George Hripcsak, MD, the Vivian Beaumont Allen Professor, chair of the Department of Biomedical Informatics in the medical school, and director of medical informatics services for NewYork-Presbyterian Hospital. "With electronic health records and other sources, such as imaging, we now have a ton of data. Turning that data into knowledge is the hard part."
Ultimately, of course, the goal of informatics in health care is to improve health, says Dr. Hripcsak. "How do we learn something from the data and then apply it so that future patients get better care?"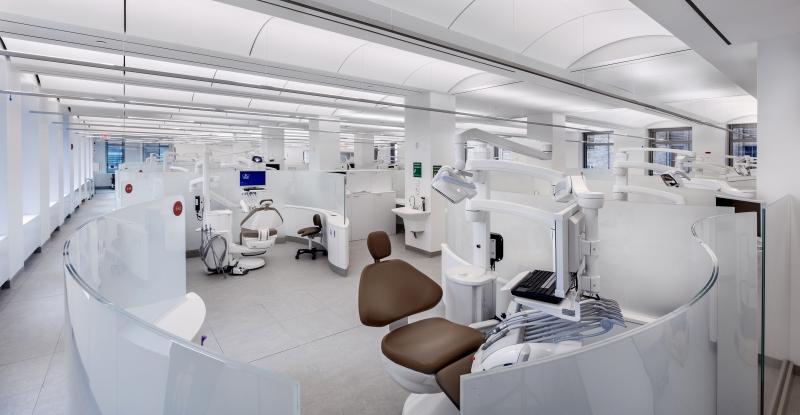 At CDM's Center for Bioinformatics and Data Analytics in Oral Health, researchers work in three areas: translational informatics, clinical informatics, and public health informatics.
Translational informatics uses sophisticated software tools to analyze data, drawn from many thousands of EHRs, on patients' characteristics, treatments, and outcomes. The results indicate which treatments have been most effective for specific kinds of patients, producing knowledge that helps clinicians deliver personalized care. "The personalization may be based on a variety of factors such as genetic polymorphisms, metabolomics, microbiome, an underlying disease trajectory, and patient preferences," says Dr. Finkelstein.
Today, a dentist who chooses a treatment for a patient has limited evidence to point to one choice over another, says Dr. Finkelstein. "Which is preferable—a root canal or an implant—from a long-term survival perspective? If it's an implant, which implant would work best for this particular person? How can the optimal diameter, length, chemical composition, and implant procedure be defined, taking into account individual constellation of oral and systemic health factors as well as patient preferences?"
Dentists make these choices based on their training and their own rich experience, Dr. Finkelstein says. "But it would be great to enhance their decisions by proactively analyzing large data sets to provide evidence-based recommendations at the point of care." Deep data mining reveals which treatments worked best in the past for patients who fit a wide range of profiles—from people taking certain kinds of anti-depressant medications, for example, to individuals with osteoporosis.
Deep data mining also could pave the way for learning health care systems—systems of care that continually assimilate new evidence showing which treatments are most effective. "We can use the data to assess how well we're doing and try to improve and constantly correct our performance," says Dr. Finkelstein.
One translational informatics project underway at the center involves dry socket, a condition that causes extraordinary pain after tooth extraction. "We want to predict who can potentially develop dry socket, so the treatment can be better tailored," Dr. Finkelstein says.
Unfortunately, the current EHR does not reliably identify all dry socket cases, making it hard to locate all people who suffer this condition. Using a strategy called deep phenotyping, researchers at Columbia are developing algorithms to determine the signature traits of dry socket, then identify patients who share those traits. These might, for example, be patients who return after an extraction complaining of serious pain, get prescriptions for codeine-based pain medication, and then report that the drug is not helping.
Once researchers identify the patients who have suffered dry socket, they can start to figure out what else those patients have in common and use that knowledge to develop treatments better tailored to their needs. A similar approach is attributable to other important side effects of dental care allowing proactive interventions to enhance patient safety and improve quality of dental care.
Decision Support and Patient Education
Clinical informatics uses big data to find ways to improve care delivery. For example, Dr. Finkelstein says, one could develop a decision support tool that looks at a patient's EHR and considers knowledge developed through translational informatics to make suggestions that pop up on a screen near the chair as the dentist works. "The final decision would be made by a certified provider, but the software would help in making an educated decision," he says.
Some researchers in the center are analyzing publicly available databases to learn how to reduce medical errors, says Dr. Errante. "In New York state alone, malpractice claims paid out over the past 20 years have totaled about half a billion dollars.
" Using artificial intelligence, we can develop a smarter way of teaching, so that we deal with a problem not after the fact but before it occurs." – Christian Stohler
We're looking at who is most likely to be the victim of malpractice and who is most likely to be the dentist involved, based on factors such as age, sex, and education."
Public health informatics explores how best to deliver health care and health education to specific populations. Members of certain societal groups might not fully understand the importance of oral hygiene, dental exams, and related practices, Dr. Finkelstein says. "Interactive education provided by social media, engaging apps, and portals can be instrumental in delivering empowering messages to promote oral health in those populations."
Before joining CDM, Dr. Finkelstein developed a tablet-based interactive educational program for use in the hospital by older adults with diabetes. Tailored to each patient's comprehension level and to the details in his or her health records, the program led the patient through a series of screens to explain the importance of taking medications as prescribed. "The result was improvement in their diabetes control." One could apply the same methodology to oral health education, he says.
The Wired Operatory
Researchers at the center draw upon data from many sources, but they are particularly excited about a potential source at CDM itself, the new teaching clinic on the fifth floor of the Vanderbilt Clinic building—the Center for Precision Dental Medicine.
The 15,000-square-foot operatory, which opened this fall, provides space for both preclinical and clinical instruction. Technology installed throughout the facility records students' activities as they work on simulated and real patients, providing a wealth of data for use in instruction and research.
That data come from radio frequency identification—RFID— tags attached to instruments and supplies, to ID badges worn by students and clinic staff, and to wrist bands worn by patients. Using the same wireless technology sometimes employed to track products in warehouses and retail stores, devices installed throughout the facility capture data from the tags to create a detailed record of activities in the clinic. The system records, for instance, how a dental student uses instruments and supplies and how long a patient spends in the waiting room, in the dentist's chair, and at the financial services desk.
CDM already used RFID tags on instruments to track their movements through the sterilization process, Dr. Errante says. "But in the new center, with RFID readers in the area of the patient's headrest, we know which instruments are used in what sequence and for how long."
Using software to analyze these data, instructors gain knowledge they can tap to advise students about technique. "If we've trained providers to do the sequence A-B-C-D and they're doing something different, we now have that information, and we can coach the provider," Dr. Errante says.
"We would like to give students advice on where they differ from colleagues who are more successful than they are," says Dr. Stohler. "This may add significant value to education, where you get an individual assessment at an extreme level of granularity."
In addition, data captured from the tags help instructors provide feedback on the amount of supplies used. That is important information for dentists going into practice, Dr. Stohler says. "If you use more supplies than anybody else, that will ultimately affect your bottom line and the cost of care that you provide to your patients."
The Center for Precision Dental Medicine has two video cameras at each chair to record interactions between provider and patient and get a close-up look at the provider's technique. Faculty monitor live video streams to supervise students' work in real time. Faculty and students can also refer to video recordings when discussing students' work.
Besides providing rich opportunities for instruction, data collected in the Center for Precision Dental Medicine also provides information for bioinformatics research. For example, researchers might compare providers who use the same instruments to perform the same procedure but in different sequence to see if either practice produces a better outcome, Dr. Errante says.
Researchers could tap the video streams as well. "Video is supposed to give us insight into what procedures are indicative of downstream failure," Dr. Stohler says. By analyzing video streams, researchers might learn which events during treatment signal problems-in-the-making, so instructors who spot such events can intervene. "Using artificial intelligence, we can develop a smarter way of teaching, so that we deal with a problem not after the fact but before it occurs," Dr. Stohler says.
In its use of electronics to study clinical procedures and tie them to patient outcomes, the Center for Precision Dental Medicine is leading the way not only for dentistry, but for health care in general, says Dr. Hripcsak. "We're not doing this in medical clinics. This is truly innovative across all of biohealth."
Total Health Perspective
Since the goal of the digital initiative at CDM is to develop personalized care within the context of total health, researchers inevitably will launch some projects that look beyond dentistry. One area of strong interest is the oral microbiome—the microorganisms that live in the oral cavity.
Recent research shows that the trillions of microbial cells that live in an individual's body may heavily influence that person's health. The oral microbiome is part of that population.
"When you look at the totality of genes that are available in these microbes, you have about a million genes that add to the metabolic power of a person," Dr. Stohler says. "You cannot exclude that power from the mere 23,000 genes that man has. The totality will determine what we are going to see as metabolized, affecting our health." Given the vast number of genes involved, it is impossible to study the human microbiome without bioinformatics.
Oral microbiome research at CDM investigates how microbes in the oral cavity affect oral health and overall health. "Several studies suggest that periodontal disease has a significant impact on general health," Dr. Finkelstein says. "Periodontal disease has been independently associated with cardiovascular disease, cancer, and even cognitive decline."
Researchers at CDM also explore how a person's genetic makeup and medical conditions might make them susceptible, or resistant, to bacteria in the mouth. This work is important because the key to cutting health care costs lies in better preventive treatments, Dr. Finkelstein says. "By identifying multiple risks on the basis of genetics, the microbiome, behaviors, social factors, and other elements, we can build much more personalized and effective ways to prevent all diseases."
The overlap of oral and systemic health lends itself to collaborative research. Dr. Hripcsak cites a project that brought together dental and medical records to find associations between periodontitis and several other diseases, including type 1 and type 2 diabetes, hypertension, high cholesterol, hyperlipidemia, and several conditions connected with pregnancy and childbirth, plus a previously unknown connection to enlarged prostate. The paper was published in the Journal of Clinical Periodontology in 2013. "We had co-authors on that study from both the dental school and the medical school," Dr. Hripcsak says. "With the new developments at CDM, I think there is an opportunity to increase those kinds of collaborations."
Researchers at the Center for Bioinformatics and Data Analytics in Oral Health plan to work with colleagues in other parts of the university, says Dr. Stohler. "We are expecting a major collaboration with the Department of Biomedical Engineering and others to look into the ergonomics in care and related subjects."
Sensing Stress
One opportunity for studies linking dentistry and overall health lies within the chairs that CDM has purchased for the Center for Precision Dental Medicine. Unlike most dental chairs today, these use digital technology rather than hydraulics to control their movements. Along with computers, the manufacturer equips the chairs with Internet communications to enable data to be transmitted to maintenance technicians.
CDM will take advantage of these same electronics for research purposes. "Sensors in the chair will capture a variety of biometric measures," says Dr. Errante. By collecting data on factors such as heart rate, sweat, and changes in body temperature, the chairs could become laboratories for studying how different individuals experience stress.
The dental clinic is an ideal place to collect these data, because everyone who sits in a dental chair feels stress of some kind, Dr. Stohler says. "You have noise, you have instruments in your mouth, you don't see with your own eyes what is happening." But some people feel stress more keenly than others, and the strength of that reaction might say something about each patient's chances of developing certain medical conditions.
Since the chairs can receive data as well as transmit it, CDM could also use them to further personalize the care it provides. Consider that patient with back problems, who worries about how far back she can lean in the chair. "Not every physician remembers that this patient has this issue," says Dr. Stohler. "The chair can take information about the patient's likes or dislikes from the patient record and automatically adjust its functions, without anybody knowing about it."
While looking for more opportunities to collaborate on bioinformatics research across health care disciplines, members of the CDM faculty hope to inject more bioinformatics—and information technology in general—into the dental school curriculum. "There's no doubt we need to do more," says Dr. Stohler. One possibility is a dual degree program for dental students that would grant a master's degree in bioengineering, and more programs are in the pipeline, such as bioinformatics and, possibly, public health systems design. The school also is looking into adding a doctor of medical science degree in dental medicine.
Dr. Stohler also says he aspires for dental education at Columbia to put increasing emphasis on using data to deliver personalized care. "What you are seeing here are early steps toward building a curriculum that takes advantage of what the public would like to see—better care at a lower cost."