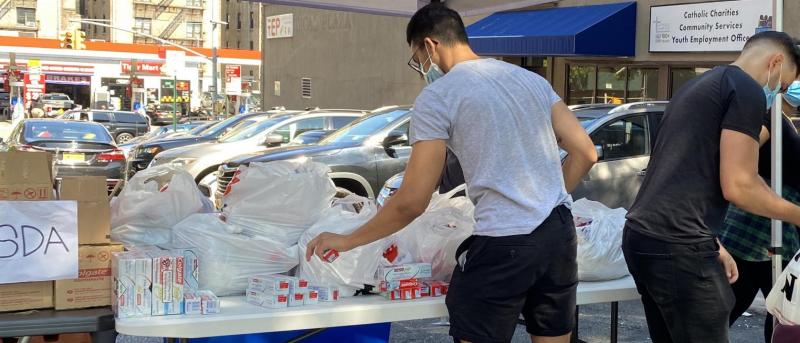 From Distributing Toothpaste to Teaching Spanish, CDM Student Group Strives to Serve Community
Advancing the oral health of New York's Hispanic and minority community is a priority for the Columbia University College of Dental Medicine (CDM) chapter of the Hispanic Student Dental Association (HSDA). To continue serving the community while being mindful of pandemic-driven limitations such as physical distancing, HSDA members are engaging in projects that provide education and supplies in ways that pose little or no risk of virus transmission.
Recently, the students have been coordinating the distribution of hundreds of toothbrushes and toothpaste tubes in conjunction with the nonprofit organization Catholic Charities, Alianza Division, which operates a weekly food pantry and provides bags of necessities to families in Washington Heights, the Upper Manhattan neighborhood where CDM is situated.
"Because of COVID-19, we haven't been able to put together the events we usually do. But then we learned about these pantries, and at the same time we learned from our national association that there's toothpaste available in Reading, Pennsylvania, where the Hispanic Dental Association national office used to be located," said Carlos Galvez'22, president of the CDM HSDA chapter. "We said, 'OK, it's perfect—that's something we could do to help the community.'"
Joined by CDM student affairs director Jary Patrocinio and Luz Aguirre, DMD, the chapter's faculty mentor, members drove out to Reading in June to pick up the supplies. The HSDA group then portioned out nearly 800 toothpaste tubes into prepared food bags at the July 2 pantry, and they plan to distribute the many remaining dental care items at upcoming pantries.
In a typical year, the CDM HSDA students organize multiple outreach activities at local health fairs and schools to offer oral health information. This year they instead created a kid-friendly video to demonstrate proper toothbrushing and shared it with teachers to include in their remote classes. Additionally, the group plans to host a modified version of its annual fundraising event for Incarnation Children's Center, a nursing facility that provides specialized care for children and adolescents living with HIV/AIDS.
The chapter also holds Spanish classes to which all CDM students are invited. Washington Heights is home to a large Spanish-speaking population—and many of the patients of CDM's teaching clinics—so these lessons help bridge communication gaps between students and patients or other community members with whom they interact. The classes will resume virtually soon after the summer term.
"A lot of students are going to be impacted in clinic," said Galvez. "There's incentive for them to get to know the community and explore the diversity within Hispanic cultures. Hopefully the classes help them communicate better with their patients, but also understand better the patients and their needs."
References
HSDA would like to acknowledge Eddie Silverio, director of the Summer Youth Programs at Catholic Charities, and Pedro Mejia, assistant director of La Plaza Beacon Catholic Charities Community Services, for their collaboration on the distribution of oral health supplies.