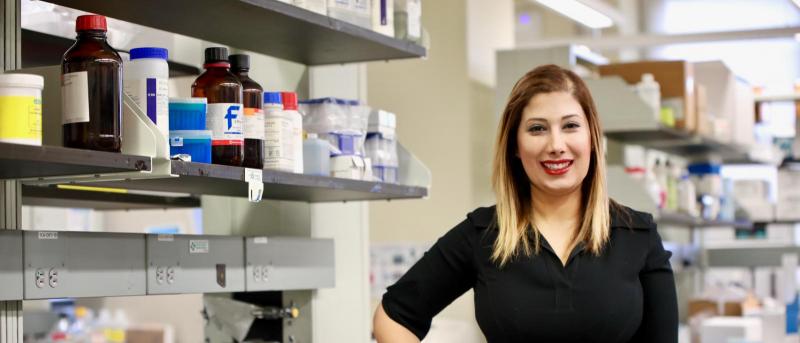 Fatemeh Momen-Heravi Awarded AADR Haffajee Fellowship
Fatemeh "Flora" Momen-Heravi, DDS, PhD, assistant professor of dental medicine at the Columbia University College of Dental Medicine, was named the 2020 recipient of the American Association for Dental Research (AADR) Anne D. Haffajee Fellowship. The award provides early-career women researchers in the field of oral biology with financial support for training and research activities that will advance their academic careers.
"It is a great honor and a great encouragement," said Momen-Heravi. She added that the AADR's recognition affirms the path she has chosen in academic dentistry and oral biology.
Momen-Heravi and her team study the pathogenesis of head and neck cancer, with a particular focus on the tumor microenvironment. In the therapeutic realm, they are developing genome-editing techniques based on CRISPR/Cas to modify the immune system to attack tumors.
"We also work on understanding the role of low-grade inflammation and innate immunity signaling in the pathogenesis of periodontal disease and its interaction with type 2 diabetes and cancer," said Momen-Heravi. Identifying the immune pathways that link these conditions could help her identify key molecules to target to reverse inflammation and limit disease progression.
Momen-Heravi received her DDS from Tehran University of Medical Sciences, followed by a PhD from the University of Westminster and an MPH from Harvard University. She then spent time as postdoctoral research fellow at Harvard Medical School and the University of Massachusetts Medical School. In 2018, she completed a residency and earned a Master of Science in periodontics at the College of Dental Medicine (CDM). That same year she joined the CDM faculty as an assistant professor.  
"Excellent resources and great collaborators makes this an excellent place for science," said Momen-Heravi. "Also, we have a steady stream of brilliant students and trainees coming through the school and into my lab whose curiosity and love of science are tremendous positive forces."
Momen-Heravi was formally recognized at the AADR's virtual awards ceremony this spring.
Flora Momen-Heravi was profiled in a March 2020 CDM Faculty Feature. Read the feature here.