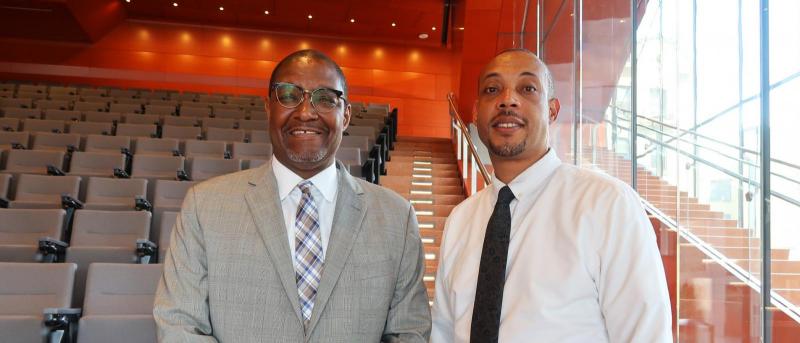 George Jenkins Named Assistant Dean of the Office of Access, Equity, and Inclusion, Succeeding Dennis Mitchell
George Jenkins, DMD, MHA, Assistant Professor, has been named Assistant Dean of the Office of Access, Equity, and Inclusion at the Columbia University College of Dental Medicine, effective July 1. Dean Christian S. Stohler, DMD, DrMedDent announced the appointment in an email to the community on June 28, 2019.
Dr. Jenkins succeeds Dennis Mitchell, DDS, MPH, who has served as Senior Associate Dean for Diversity and Inclusion and previously as Assistant Dean for Diversity and Inclusion since 2004. He was recently named the Columbia University Vice Provost for Faculty Advancement. This is a promotion from Vice Provost for Faculty Diversity and Inclusion, a role her served in since 2014 alongside his College of Dental Medicine leadership position. Dr. Mitchell will remain a Professor of Dental Medicine and work closely with Dr. Jenkins during the transition.
"Dennis has accomplished a tremendous amount in his time at the College of Dental Medicine," said Dean Stohler. "I am glad that we will continue to feel his impact through his new post. And there is nobody better equipped to advance this important work than George, who has made advancing access to higher education a cornerstone of his career."
Dennis Mitchell, DDS, MPH
Dennis Mitchell came to CDM in 1991, after a residency in Harlem Hospital, as a clinical investigator studying the oral manifestations of HIV. In the years to come, he advanced research and also served as Director of the Harlem component of the school's Community DentCare Network and Director of Research and Community Dentistry at the Harlem Hospital Center Department of Dentistry for nine years, where he oversaw the school's offsite dental service programs in Harlem.
In 2004, when he was named Assistant Dean for Diversity and Inclusion, Dr. Mitchell became the nation's first diversity-focused dean at a dental school. During his tenure, he expanded CDM's percentage of underrepresented minority students from 3 percent in 2003 to today's steady 20 percent in each class. For six years, he served as CDM's Institutional Project Director for the American Dental Eduacation Association's Minority Dental Faculty Development Program, a collaboration comprised of New York State academic dental centers and supported by the W.K. Kellogg Foundation.
Among his major contributions to the field, Dr. Mitchell helped develop and leads the dental component of a nationwide pipeline program for college students, now called the Summer Health Professionals Education Program. Dental graduates from this program are three times more likely to apply to dental school and nearly twice as likely to be accepted than their peers, according to a 2015 report. He is co-PI of this program as well as the Summer Public Health Scholars Program.
Dr. Mitchell is a two-time Co-Chair of the ADEA Diversity, Inclusion, and Access Committee, serves on the Board of Directors of the National Association of Diversity Officers in Higher Education, the nation's most pre-eminent voice for diversity in higher education, and has received numerous awards, including acknowledgement for Outstanding Contributions to Health Professions Education by the National Association of Minority Medical Educators' Northeast Region. Dr. Mitchell's past leadership roles including serving as  Special Advisor for Community Health Affairs for CUIMC, Vice Provost for Faculty Diversity and Inclusion, and now Vice Provost for Faculty Advancement, a role in which leads Columbia's $100 million efforts to increase faculty diversity. 
George Jenkins, DMD, MHA
George Jenkins takes the helm of the newly renamed Office of Access, Equity, and Inclusion. This new name reflects his intention to expand access to education and quality care, ensure equity in opportunity, and foster an environment of inclusion at the College of Dental Medicine.
Prior to joining CDM in 2006, when he was recruited by Dr. Mitchell, he was an Instructor and Acting Director of the Office of Multicultural Affairs at University of Medicine and Dentistry of New Jersey, now Rutgers.
As Assistant Professor, he has served in Triage/Radiology, on the Community DentCare team, and played a key role in summer pipeline programs. Beyond his formal responsibilities, Dr. Jenkins supported efforts to make CDM a more diverse, inclusive community, in part through mentoring students.  
For Dr. Jenkins, this work isn't just professional; it's personal. As he has written about in bestsellers and frequently speaks about in motivational lectures, in part through his "Three Doctors Foundation," Dr. Jenkins grew up in an inner city neighborhood in Newark, NJ, without many of the traditional support systems those from more privileged backgrounds enjoyed. He credits his success in part to a pipeline program, a pact he made with similarly driven friends, and an encouraging dentist who helped focus his professional ambitions. 
Topics
Campus News, Education