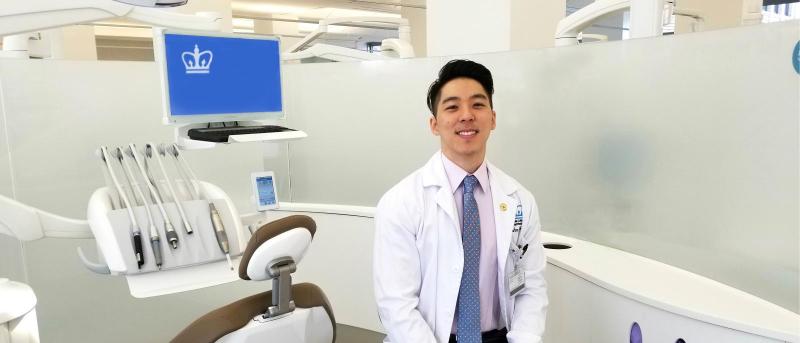 John Yoo'18: Humor Helps
John reflects on the people who helped shape him as a clinician and the lessons he learned along the way. Rule number 1: don't make patients afraid of you.
John Yoo, a New Jersey native, studied biology and psychology at Duke University before coming to Columbia. He has a clear vision of his future after his pediatric dental residency: private practice with service work on the side.
Why did you choose to become a dentist?
I began to see dentistry as the artistic medium through which I can make a positive, fulfilling human impact. To me it is the perfect blend of the arts, social skills, and healthcare. I have since homed in on serving the younger population, and will be pursuing a pediatric dental residency at Jacobi Hospital in the Bronx, NY. After establishing a footing in private practice, I want to treat underserved children all over the world, kind of like a dental Santa Claus. Dr. Santa Claus.
Is there any particular lesson you learned— from a faculty member, a classmate, or even a patient— that helped you become a better dentist? 
One of the greatest lessons I learned came from observing Dr. Kaplan's chair side manner. With his sense of humor, he could make Kanye West smile. As young clinicians, we are so focused on our technical skills that we sometimes lose sight of our patient's experience. I picked up some expert tips from Dr. Kaplan and our pediatric specialist Dr. Lal, and saw fewer broken appointments over time. It's so much more productive to meet patients who aren't scared of you.
What advice do you have for future dental students?
According to the American Dental Association, 1 in 4 dentists will be disabled long enough to collect disability benefits. Dentistry is physically taxing and proper posture should be practiced early on. I have not been so good about that, and I can already feel my lower back strain. Hit the weights and use your loupes!
Is there anything else you want to say to your classmates and the greater community?
Our class ('18!) as a whole is greater than our parts. From our shared study guides, our collective efforts in community service, to our excuses to party after exams, we have supported one another since the 1st year. I wish each of my colleagues the very best in their endeavors, and I am eager to see what accomplishments my friends will achieve in their respective fields. Let's make it big and party on in true CDM fashion.