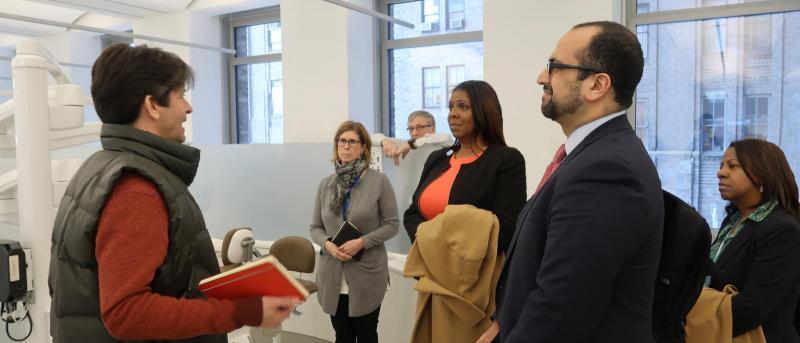 Letitia James, New York's Attorney General-elect, Visits College of Dental Medicine
In her final days before taking on her state-wide role, Letitia James, New York State Attorney Gen.-elect, visited the Columbia University College of Dental Medicine (CDM) to hear about the school's work caring for its underserved neighbors. 
This is an important issue to James, who currently serves as Public Advocate (PA) for the City of New York. She recently issued a report on stark oral health disparities among the city's children and called for policy changes as well as central resources to bring oral health care to public schools. In the report, she recognized CDM as one of a handful of organizations working to meet local needs, often at a loss.
During the Dec. 10 visit, James and Umair Khan, the PA counsel, met with CDM's Dean Christian S. Stohler, DMD, DrMedDent, Ross Frommer, Vice President for Government and Community Affairs and Associate Dean at Columbia University Irving Medical Center, who organized the visit, as well as other members of staff and dental students. The group discussed the patient base and the school's efforts to serve its largely Medicaid-eligible population. James asked questions about programs and discussed her own recommendations for the Mayor's Office to strengthen New York City oral health care for its children. 
As the Columbia representatives outlined programs, James was especially interested in hearing from students about CDM's dental van that visits local schools as well as its free, student-run clinic that operates out of a church basement.  She asked whether these programs serve undocumented immigrants-- which they do-- and wondered whether that population was less likely to seek care in the current political environment. 
After the discussion, the visitors toured the school's clinics, including its new Center for Precision Dental Medicine a high tech clinic with sensors and data-collection devices to improve care. 
After the visit, James offered generous praise. "Columbia University College of Dental Medicine provides invaluable care to individuals in Northern Manhattan and the Bronx, communities that are too often without access to basic dental services," she said. "From offering free clinics, to services for children in our public schools, to supporting seniors, CDM has truly contributed to the overall health of so many New Yorkers - and on their own initiative. It was an honor to visit CDM and see firsthand all the work they are doing for New Yorkers." 
Topics
Campus News, Dentistry