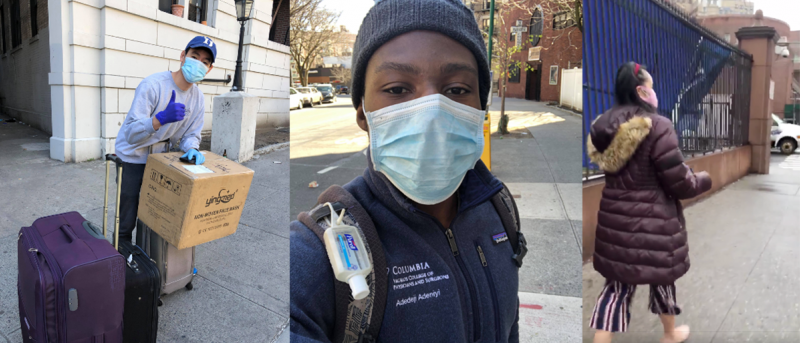 Students Supply PPE During Pandemic Through Grassroots Campaign
Compelled by health care workers' pleas for personal protective equipment (PPE) in the early days of the COVID-19 pandemic, a small, interprofessional group of students at the Columbia University Irving Medical Center sprang into action. Through their "Mask on, March on!" campaign, the students raised nearly $12,000 and succeeded in navigating fraudulent suppliers, federal regulations, international transactions, and luggage-laden subway trips to purchase and deliver more than 11,000 pieces of PPE to hospitals around New York City.
The students behind Mask on, March on! are Carissa Ho, Alexander Litrel, and Michael Choi of the College of Dental Medicine; Adedeji Adeniyi of the Vagelos College of Physicians and Surgeons; and Michael Costello of the Mailman School for Public Health. Ho and Adeniyi, who met through the International Collaboration and Exchange Program at Columbia, started organizing the effort when news of the PPE shortages reached them in March.
"Many of my friends, my classmates from college who were medical residents, were calling out for help through social media, saying that they're not protected. I was really shocked," said Ho. "We decided that we shouldn't just sit at home and not do anything about it while our friends and faculty members were out there fighting on the front lines."
They set up a GoFundMe page and raised $5,000 within the first two weeks of the campaign. In the month that followed, Litrel, Costello, and Choi joined the group and continued to amplify fundraising efforts by developing a social media presence and reaching out alumni and other groups. But collecting money was just the start: To source the PPE, the team had to determine which equipment to buy, find legitimate suppliers, and manage the logistics of transcontinental imports.
After reviewing listings at getusppe.org and speaking with doctors, the students chose to purchase surgical masks—which would allow them to provide protection to more health care workers than costlier N95 respirators—and goggles. To vet the products of the 100-plus suppliers they considered, "We had to go to the FDA website and check their CE number and all the codes, because there are a lot of people selling fake masks," said Ho. "We also reached out to other fundraising efforts and dental offices, and we worked together to get our sources. It was a community effort."
The group selected a Chinese company to supply to goggles. Adeniyi, who learned business Mandarin as an undergraduate and spent a year in Taiwan through a Fulbright scholarship, appreciated the opportunity to flex his communication skills in arranging the purchase and to better understand the complexities entailed.
"I didn't realize how much involvement it takes with the FDA—you have to get them past both Chinese and U.S. Customs because the FDA regulates goggles and eye protection," said Adeniyi. The challenges of navigating the regulation process, too, were overcome with the help of volunteers from other PPE supply drives.
In choosing PPE recipients, the Mask on, March on! team prioritized New York City hospitals and clinics most in need. From the end of March to late May, the group distributed more than 10,000 masks and 650 sets of goggles to facilities across the city. Their first delivery was to Elmhurst Hospital, where a resident had recently died—a striking loss that may have been preventable with PPE, said Ho.
This week we made a drop-off of 390 (yes, 390!) reusable protective goggles to Harlem Hospital, Flushing Hospital Center, and Bronx Care! #maskon_marchon

We've only been able to do this because of your support. THANK YOU! pic.twitter.com/WZ5Vc0KEvu

— Mask on, March on! (@maskon_marchon)

May 10, 2020
To save as much money as possible for purchasing PPE, the students often took the subway to transport the protective gear, which they packed into suitcases. They made efforts to deliver the PPE directly to health care workers so that it would be distributed immediately.
"It was a very interesting experience going to the hospital looking like we're about to go to the airport, because we had several luggages in hand," said Adeniyi. "We'd tell the security guard, 'We're here to deliver PPE,' and everyone gets really excited once they hear that. It was almost like being Santa Claus."
As the number of COVID-19 cases dropped in New York City and the students dispersed for the summer, the Mask on, March on! campaign came to a close, though the team may start fundraising again if the crisis worsens, Adeniyi said.
Whether or not that happens, "I think, in the future, we can definitely work together again because we make a great team," said Ho. She added, "This project really helped us break boundaries. For the dental or medical school students, there used to be a sort of separation at the beginning. But not now. With this project we all came together and collaborated as friends. This project helped us come together as a university."