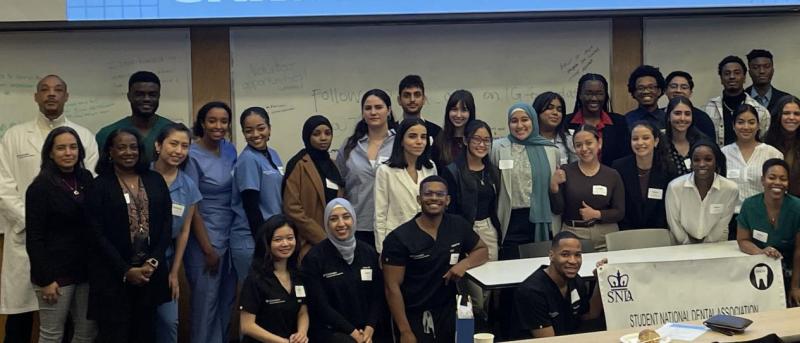 Predental Students Get Keys to Success at CDM Impressions Day 2023
On March 25, 2023, the Student National Dental Association of the Columbia University College of Dental Medicine held Impressions Day, a day-long, immersive program for undergraduate students interested in entering the field of dentistry. The program, which is planned and run by current dental students, is designed to provide mentoring, exposure and support for students who are interested in the field, with the goal of increasing the number of qualified applicants from groups that are historically underrepresented.

Twenty-six students from as far away as North Carolina spent the day participating in discussions about all aspects of applying and gaining admissions to dental school. Current students shared their experiences, including useful resources, tips and tricks for scoring well on the Dental Admission Test, how to make an application stand out, how to apply for financial aid and scholarship support, and the CDM curriculum. Participants also had the opportunity to get hands on experience in a dental lab, taking impressions and pouring casts. 
George Jenkins, DMD, CDM's associate dean for access, equity, and inclusion notes that the lack of minority representation in dentistry has an impact on public health. According to the American Dental Education Association, a little less than 4 percent of dentists in the United States are Black, which may be a factor in the persistent oral health disparities among Black and African American people.
Jenkins says that Impressions Day is the first step in a process of recruiting and supporting students. "We are creating a pipeline. After Impressions Day we encourage students to apply for Columbia's Summer Health Professions Education Program and the Summer Public Health Scholars Program. We're coaches and guides," he says. Jenkins says that he is committed to increasing the pool of students from underrepresented communities because he benefited from having been mentored by Dr. Dennis Mitchell, who is now the vice provost for faculty advancement at Columbia University and senior associate dean for diversity for the Columbia University College of Dental Medicine. "I met him as a resident, when I was right out of dental school and he recruited me."

Terell Cullum, a sophomore at York College in Queens, said that the day was both informational and inspirational. "Seeing the students here with backgrounds similar to my own makes me think that I am capable of achieving my goal."

Ashlee Campbell, president of the CDM chapter of SNDA, says even though planning Impressions Day was challenging, making the path to dental school a little easier than it was for her makes the project worthwhile.  "When I was an undergraduate applying to dental school I didn't know about SNDA. I didn't know about Impressions Day. Now that I am in a position, it's great to be able to help these incoming students," she says.

"Prior to dental school I didn't have friends who were applying to dental school; no one in my family is a dentist, so I kind of had to figure it out on my own," she says. "Mentorship and representation play big roles."