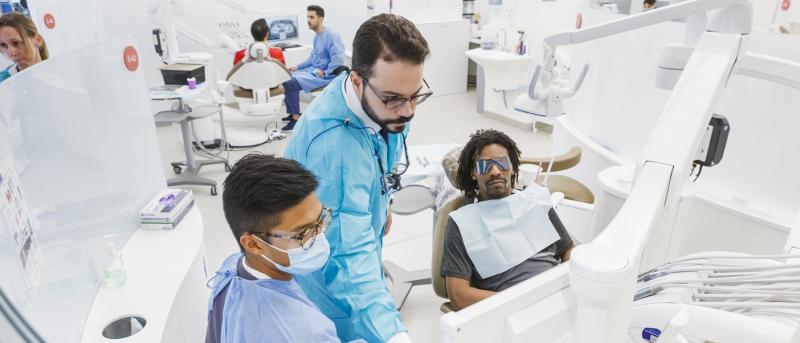 Shared Medical-Dental Health Record to Promote Integrated, Patient-Centered Health Care
Columbia University College of Dental Medicine (CDM) is a participating organization, along with ColumbiaDoctors, New York-Presbyterian, and Weill Cornell Medicine, in the implementation of a single electronic health record (EHR) across all three institutions, using the Epic platform and software to provide the integrated EHR. The project of the tripartite consortium, called EpicTogether, will provide a unified, coordinated patient experience that facilitates providers' care for their patients and will enhance coordination between departments and institutions.
Among many significant benefits of the EpicTogether project will be the creation of an integrated medical and dental health record. A single record will translate into a more unified experience for patients. Epic provides modules for clinical specialties—in the case of dental, a module called Wisdom—while also integrating with core modules such as ambulatory care, scheduling, registration, and revenue cycle. For CDM, the transition to the Epic EHR provides several exciting opportunities. Student, resident and faculty providers will deliver care to patients in an integrated medical-dental record that offers a comprehensive view of key items such as medical history, allergies, and medications. For DDS students, the move to an integrated medical-dental record builds on the integrated education they receive in the first two years of their program with the Vagelos College of Physicians and Surgeons, the medical school at Columbia University Irving Medical Center. For all students and residents, the integrated platform Epic provides will more closely approximate the system environment in which they will be providing care upon graduation and throughout their careers. 
The College of Dental Medicine is part of the Phase 1 Go Live of EpicTogether, which will be Jan. 31, 2020. CDM faculty are part of the team that will train other faculty, residents, and students. A CDM project team composed of faculty, administrators, and staff is working closely with the EpicTogether team on development, testing, and a host of readiness activities.
"The EpicTogether project is an exciting initiative for the College of Dental Medicine," said Christian Stohler, DMD, DrMedDent, Dean of CDM. "This integrated platform reflects the commitment by the University, the Medical Center, and the College to patient-centered care and to preparing our students for the future of integrated health care."
Topics
Campus News, Dentistry