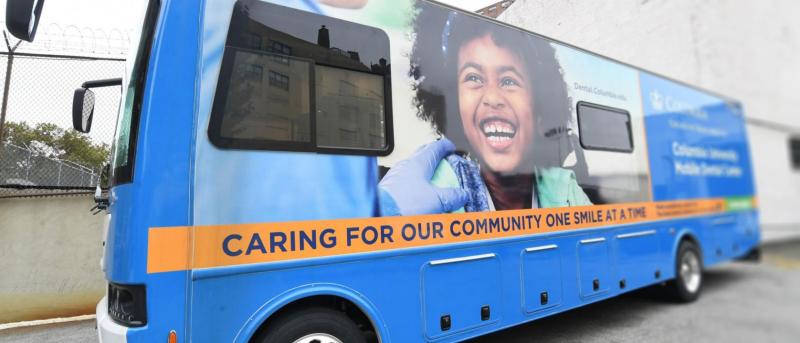 With Support of the Mother Cabrini Health Foundation, CDM Launches Program to Bridge Disparities in Vulnerable Populations
Columbia University's College of Dental Medicine recently received a $500,000 grant from the Mother Cabrini Health Foundation to launch a program to bridge disparities in vulnerable populations and people with intellectual and developmental disabilities.  CDM knows from its own extensive clinic experience with pediatric patients, young adult patients and patients with special needs, that patients with special needs often have some of the biggest challenges accessing oral healthcare. Barriers range from mobility and transportation issues, to accommodations within a clinical setting, to extremely limited operating room (OR) availability, to payment and reimbursement mechanisms that don't begin to cover the costs of the required services and support.  
In addition, according to a 2021 survey by New York State's Office for People With Developmental Disabilities' Task Force on Special Dentistry, over 15,000 New Yorkers with Intellectual and Developmental Disabilities, or I/DD, struggle to get access to comprehensive dental care, and can end up on waitlists of a year or even more to get the care needed.  CDM'S program seeks to help bridge disparities that exist in healthcare and disproportionately affect this vulnerable and special needs population by leveraging a service model that utilizes dental vans, community dental healthcare coordinators (CDHC), and community partners to provide care to these individuals, while training dental students to care for such patients, creating a pipeline of dentist prepared to meet the needs of this segment of the community in their future practice settings and across the career spectrum.
Access for Special Needs Patients
With a newly built dental van, funded through the generosity of the Mother Cabrini Health Foundation, CDM has new capacity to get out into the community and meet clients where they are and conduct oral health screenings and assessments of patients, as well as the capacity to provide primary dental care for patients at its teaching clinic for patients who need more intensive services. In addition to the existing clinical infrastructure, CDM's Director for Management of Vulnerable Populations, Dr. Marc Michalowicz, will collaborate with the school's leadership, community partners and with NYS Academic Dental Centers' initiative on special needs fellowship to create an infrastructure and a modern service-learning curriculum that will better prepare future generations of graduating dentists to more effectively manage special populations.  
"It is very exciting to be part of a visionary team whose goal is to increase access to oral health care for people with special needs and to provide this care in a safe and caring environment," says Michalowicz. "Through the Mother Cabrini Foundation's generosity and strong commitment to oral health care for this unique patient population, CDM will be at the forefront in this endeavor via a two pronged approach: we will address patients' needs in their community with our specially equipped van, and address comprehensive care needs through the dental school clinic. Just as important as the treatment rendered, we will be training dental students and residents in providing care for these patients."
Collaboration with Community Partners
At the center of this service model are the collaborations with community partners, which allow CDM to be part of a care team that is already organized around a special needs patient, enabling CDM to demonstrate a model that has oral healthcare integrated with medical services.  As Dr. Amy Herbert, CDM's Director of Community Engagement and Partnerships notes, "CDM is currently partnered with various city schools, Head Start programs, and senior centers which facilitates access for communities who traditionally experience barriers to care.  The integrated dental/medical van will address various needs of the community simultaneously.
Moving forward with this model, CDM is striving to create additional connections with more community programs and centers allowing the dental school to cast a wider net to help more individuals in the community gain access to care and overall health education. It will also further enhance the service learning experience for students, allowing them to meet patients where patients live, work, and go to school."