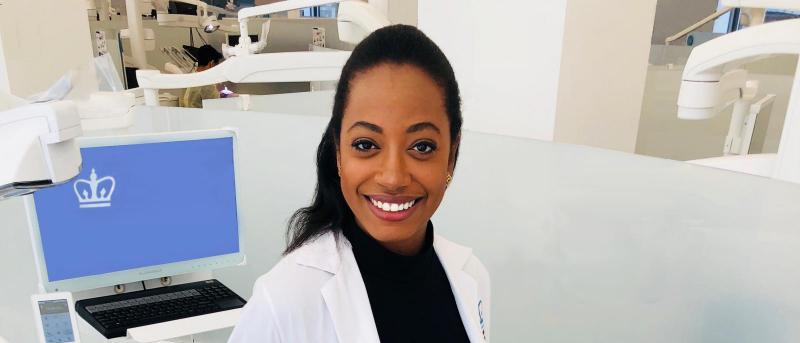 Tiffany Lewis '18: For This Dentist, Empathy is Key
Tiffany Lewis, DDS '18, a Georgetown graduation, was born in Miami, Florida but grew up in Port of Spain, Trinidad and Tobago. Having seen how limited healthcare infrastructure impacts underserved communities, Tiffany brings a commitment to social justice and deep empathy to her patients.
Why did you choose to become a dentist?
I saw a growing need for health care professionals ready and willing to treat underserved populations. Trinidad and Tobago is a vibrant pair of islands; its culture and passion is palpable. However, the country has not been able to sustain an adequate public health care system. It is distressing to see families in rural and urban areas unable to access, let alone afford, preventative and restorative care. This motivated me towards a career in dentistry to care for and catalyze change in my community in which innocent, disadvantaged families have inadvertently become victims of their circumstances.
Describe one experience from CDM that you'll always remember?
My favorite memory would be my global outreach and research at Columbia. I belonged to a team that embarked on a research project facilitating capacity building and community empowerment within a rural town in Ethiopia. This project improved the oral health related knowledge and skills of individuals within the community. One of our goals was to educate a few who could disseminate this information so that oral health would be remain a mainstay of their culture. Having worked on an international project with such a sustainable consequential effect on adults and children, I feel fortunate to positively impact another community.
Is there any particular lesson you learned— from a faculty member, a classmate, or even a patient— that helped you become a better dentist? 
The greatest lesson I've learned is the importance of empathy, patient engagement and, a personal touch. Dentistry is incredibly unsettling to most people. When I think about it, someone's fingers are in your mouth, you're lying in their lap and there's a possibility that they can cause you pain. I've found that when your patients can feel that you really do care about them holistically, the dental chair becomes a cathartic safe space where they feel at ease. Also, in the dental school experience, you are at your patient's mercy. They need the care but you also need to graduate, pass the boards, etc. For type A personalities, like every dentist I know :), this is unnerving. However, if your patient feels that you really care, they will show up for you no matter what.
What advice do you have for future dental students?
My advice would be to do your research, shadow, and be sure that this is really where your passion lies. Dentistry is amazing, full of opportunity for growth, and is incredibly rewarding. However, there will be challenges and shortcomings like with anything else in life. The key thing to get you through it is your sheer passion and determination to succeed.
What's next for you?
I will begin a two-year pediatric dentistry residency at Yale University in the summer. I am unbelievably excited for this next step!
Is there anything else you want to say to your classmates and the greater community?
I am incredibly grateful to be among this cohesive group of eighty (80) genuine, passionate and exceptionally talented individuals. Thank you for these four years. We pushed each other to be our best, supported each other in difficult times and celebrated our many accomplishments. Together, we will push the boundaries and positively impact the world of dentistry.