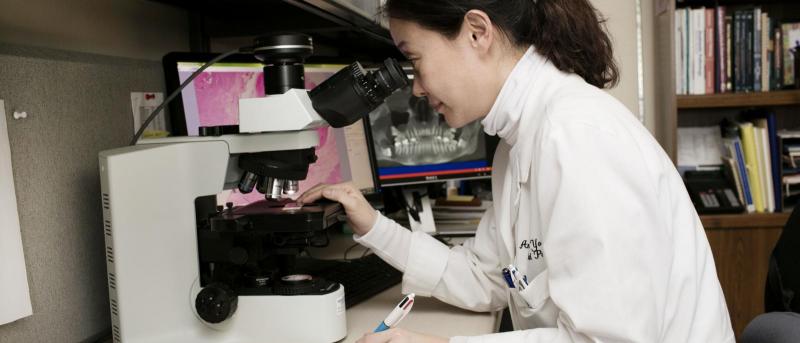 NIH Funds Oral Cancer Test Research at Columbia Dental Medicine
Research aimed at developing personalized treatment for people with oral cancer
NEW YORK, NY — Angela J. Yoon, DDS, MPH, MAMSc, director of the Oral and Maxillofacial Pathology Division at Columbia University College of Dental Medicine, has been awarded a R01 research grant from the National Institute Of Dental & Craniofacial Research of the National Institutes of Health totaling $1,368,000 over four years. Dr. Yoon is developing a prognostic tool to help doctors provide personalized treatment for oral cancer.
Every year, 8,000 Americans die of oral cancer, a disease that disproportionately affects men, especially African-American men. When diagnosed early, the five-year survival rate is approximately 60 percent for early stage oral cancer patients. Yet doctors have no way of forecasting which of the people who are diagnosed with early stage oral cancer each year have a more aggressive form of the disease.
Currently, doctors use a technique known as TNM to stage oral cancer. The TNM method takes into account the size of a tumor, the degree to which cancer has spread to the lymph nodes, and the extent to which the cancer has spread to distant organs. Using the tools Dr. Yoon is developing, pathologists and clinicians will have more tailored insights to guide treatment.
In the new NIH-funded project, Dr. Yoon aims to develop a test to detect the molecular signature of a tumor. This information will allow doctors to better predict whether a given oral cancer is likely to progress more rapidly, and offer personalized treatment options.
Already, in a preliminary study, Dr. Yoon has identified specific molecules that—combined with such risk factors as tobacco and alcohol use—can increase a person's susceptibility to aggressive forms of oral cancer.
In the current project based on the smaller, preliminary study, Dr. Yoon is looking for the snippets of microRNA—genetic material that controls protein expression—that are associated with more aggressive forms of oral cancer. This will enable oral cancer specialists to determine which individuals harbor high levels of the microRNA associated with aggressive disease.
"We want to identify those at high risk for cancer-specific death from the group of people who are already assigned to stage I or II," says Dr. Yoon. "Since 80 percent of oral cancer patients are in early stage at the time of diagnosis, a window of opportunity exists in which accurate prognostication and subsequent decisions for appropriate treatment could dramatically improve 5-year survival for patients."
Dr. Yoon is already paving the way for the personalized treatments physicians and patients will require to leverage her new prognostic tool. She is working with oncologists at Columbia's College of Physicians and Surgeons to investigate the efficacy of immunomodulatory therapy, a kind of treatment that can help the immune system identify and kill cancer cells. Oncologists prescribe such medications prior to surgery to shrink tumor size and boost survival rates.
"Once we've identified a cancer as a 'high-risk', we need to provide treatment that will improve survival," says Dr. Yoon. "I believe it is the responsibility of clinicians in academia to diligently look for ways to improve patient care."
______________________
Columbia University College of Dental Medicine, one of the first dental schools in the United States, was founded in 1916. Its mission is to train general dentists and dental specialists in a setting that emphasizes comprehensive dental care; to support research to advance the professional knowledge base; and to provide dental care to the underserved communities of Northern Manhattan. Its faculty has played a leadership role in advancing the inclusion of oral health programs in national health-care policy and has developed novel programs to expand oral care locally and in developing countries. CDM is developing an international program in education and service. For more information, visit dental.columbia.edu.
Columbia University Medical Center provides international leadership in basic, preclinical, and clinical research; medical and health sciences education; and patient care. The medical center trains future leaders and includes the dedicated work of many physicians, scientists, public health professionals, dentists, and nurses at the College of Physicians and Surgeons, the Mailman School of Public Health, the College of Dental Medicine, the School of Nursing, the biomedical departments of the Graduate School of Arts and Sciences, and allied research centers and institutions. Columbia University Medical Center is home to the largest medical research enterprise in New York City and State and one of the largest faculty medical practices in the Northeast. For more information, visit cumc.columbia.edu or columbiadoctors.org.