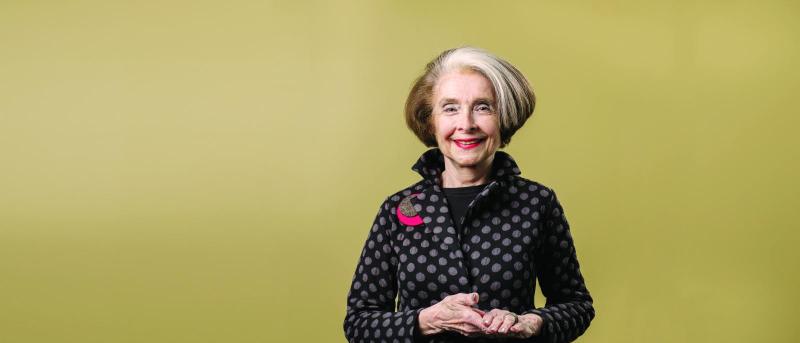 In Profile: Lois Cohen
Expanding CDM's World View
Lois Cohen, PhD, has never filled a cavity or asked a patient to "open wide." Yet, thanks to a lifetime spent crunching large data sets, asking tough questions, and charting her own career path, she has broad knowledge about oral diseases, their social determinants, and aspects of health care delivery systems as well as lifestyles of the public regarding self-care, nationally and globally. 
That is what happens after writing more than 150 peer-reviewed papers, editing four books, and racking up countless awards and honors. And that is why Harvard, Purdue, the University of the Sciences in Philadelphia, and the International Association of Dental Research's Behavioral, Epidemiological and Health Services Research Group all have granted awards in her honor. It is also why Columbia University invited her to serve as a consultant to the Board of Advisors Task Force for Global Engagement.
Her journey started in 1964 when she arrived in Washington, D.C., with a PhD in sociology and joined the U.S. government in what was then called the Department of Health Education and Welfare, now known as the Department of Health and Human Services. As a social science analyst, she became part of a small team that gave rise to the field of social and behavioral science research in dentistry.
"We looked at the data on dentists' practice behaviors regarding the early detection of oral cancer, public opinion on community water fluoridation, interest in careers in oral health especially during times of national health workforce shortages. We discovered that dentists were comfortable examining hard tissue, but oral cancers were in the soft tissue and they were less comfortable dealing with those tissues and the associated possibility of life or death consequences should cancer be detected," she says. "Those observations contributed to an effort to accelerate changes in dental education curricular content to ensure there was appropriate instruction about the soft tissue. Now oral cancers, using more accurate technology than what was available in the 1960s, are often caught much earlier."
That was just the beginning of her illustrious career as she shifted her focus to places outside the United States seeking information about the effectiveness and efficiencies of alternative models to deliver oral health services to enhance population health nationally. "Domestic problems and global problems are not mutually exclusive," she says. "When we look at the world, it helps us gain clarity about our own country. So we want to produce graduates with a worldview instead of just a clinical view. We can learn to solve our national problems from innovations acquired from anywhere on the globe, be it another industrialized country or even from low-cost but effective interventions employed in low-resourced settings in the least developed countries of the world."
Dr. Cohen's worldview allowed her to twice co-lead the world's largest dental research projects ever undertaken with the World Health Organization, serve as a visiting lecturer at Harvard Medical School, direct the Division of Extramural Research at the National Institute of Dental Research (now the National Institute of Dental and Craniofacial Research), and serve as the national institute's associate director for international health. She retired in 2006 from the NIH's National Institute of Dental and Craniofacial Research, where she headed the WHO Collaborating Center for Dental and Craniofacial Research and Training.
Like any workaholic, though, retirement just meant a chance to start something new. She still uses data, an insatiable curiosity, and scientific inquiry to explore questions of dental care domestically and abroad as a consultant and in her role as a Paul G. Rogers Ambassador for Global Health Research.
"I guess I have been doing this a long time, but I don't feel tired," she says. "The passion and excitement of young health professional students, faculty, administrators, and practitioners fuels me. The work of connecting oral health to global health is extremely important to the movement of disease prevention and health promotion, so I can't imagine slowing down."
In her consulting capacity to CDM, Dr. Cohen is serving as an adviser to enhance global programs to engage dental students and faculty to use their educational and research experiences to think about a globalized world, to understand the complexities of working in multicultural contexts to advance population health while focusing on person-centered health. (See "Expanding the CDM Footprint" in this issue, Page 20.)
"Oral health is part of a quality of life," she says. "Dentistry should not be separated from the rest of the body or from issues around clean water, industrialization, sanitation, agriculture, and education, all issues critical to health, including oral health. It's wonderful to see student-led interest in tackling these problems. Many students make contact with other parts of the university outside of the medical center. It shows that they're seeing the many extra-medical factors that contribute to disease outside the biological and clinical domain. I just hope to facilitate the expansion of their perspective in their clinical work. Maybe some students will even develop careers in public policy, focusing on advocacy for healthy public policies and supportive to their efforts to provide essential services to people in communities of need."