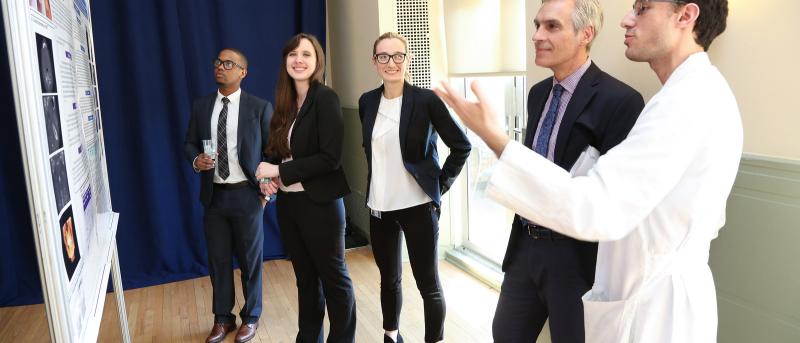 CDM Crosses Disciplines at Annual Birnberg Research Day
The Columbia University College of Dental Medicine has always seen itself as a part of, rather than apart from, the larger life of Columbia University. This was the concept behind its founding as a dental school within a medical center a century ago, and nowhere was the focus on interdisciplinary connections more evident than this year's Birnberg Research Day. The event featured a lecture, a lively panel discussion, as well as a poster session of student research, each pointing to the current and future cross-disciplinary merger of research, and its potential to transform the field.
Opening the program, George Hripcsak, MD, Chair and Vivian Beaumont Allen Professor of Biomedical Informatics at the College of Physicians & Surgeons and the 2017 Birnberg Research Awardee gave a talk titled "Reproducibility of Observational Research." Dr. Hripcsak's study and development of state-of-the-art medical records offers unprecedented data to target diseases, including those of the oral cavity. Such work, which has already advanced the field of precision medicine holds tremendous promise for the field of precision dentistry. 
Following the lecture, Dr. Hripcsak joined a panel discussion with six CDM faculty members, two students, and Dean Christian Stohler, DMD, DrMedDent. The discussion focused on data sciences and the school's state-of-the art teaching clinic under construction, which will turn a teaching dental clinic into a rich data collection resource. This will benefit patients, students, and researchers alike, especially when linked to  the school's new Center for Biomedical Informatics and Data Analytics in Oral Health, as well as future partners outside the school, and the traditional boundaries of the field. The discussion of the panel elicited many questions from an audience fascinated by the promise that the facilities and the field has to impact research, teaching and learning, and most importantly, improved patient care.
The day culminated in a poster presentation by predoctoral and postdctoral students eager to share their work. The students presented 44 posters in fields of science ranging from molecular, cellular, tissue, physiology, regenerative medicine to social/behavioral sciences, education, gerontology, health services and global health. The student scholars were mentored by 24 faculty members from across CDM, CUMC, the greater university, and international locations. Thirty-one judges reviewed the posters and asked the researchers about their work. These judges will select winners, who will be announced on May 3.  All poster abstracts were published in the 2017 Jarvie Journal produced by the Jarvie Society.
"The day was a great success," commented Carol Kunzel,  PhD, director of research at the College of Dental Medicine. "Now we face the difficult process of choosing winners from the outstanding research projects presented by our students."