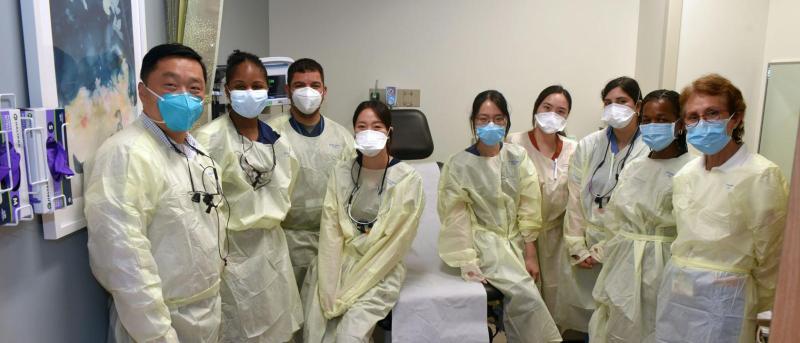 CDM Provides Free Oral Cancer Screening Event for Community
On August 26, the College of Dental Medicine (CDM) conducted a free oral cancer health screening event in collaboration with New York-Presbyterian Lawrence Hospital (LH). Under the leadership and supervision of Dr. Vicky Evangelidis-Sakellson, Director of Advanced Education in General Dentistry (AEGD), and Dr. Terry Im, Assistant Clinical Professor in CDM's Periodontics program, 1 Oral Pathology Resident, 2 AEGD residents, 2 general practice residents (GPR), and 2 dental hygienists, one of whom is a community dental healthcare coordinator, provided complementary oral health and cancer screenings for over 50 patients.
About The Screening Event
The event was a great example of an NYP-CDM collaboration and highlighted NYP's commitment to total health, underscoring the importance of oral health. The collaboration provided patient-centered care coordination by bringing the relevant services to the hospital for ease and convenience of patients, while providing an integrated approach to meet their medical needs. Regular examination of the mouth, lips, tongue, teeth, and gums by an oral care specialist can help with early detection of oral cancer, pre-cancerous lesions, tooth decay, and other medical-dental problems early, when they are most treatable, but is often not reimbursed by medical payers. This outreach is a reminder and a testament to the NYP health system's commitment to excellence in patient care.
Faculty Insights
Dr. Im, who provides oral screening and dental clearance services for cancer patients at Lawrence Hospital, praised the event. "Our unique collaboration with Lawrence Hospital this last year has led to this important event and I am proud to be a part of it."
Dr. Evangelidis-Sakellson noted, "This was a wonderful CDM outreach to the community. Patients were evaluated and had the opportunity to ask questions. Residents collaborated with each other and expanded their knowledge in identifying pathologies within a new demographic. The St. Lawrence staff were welcoming to us and made the operation run smoothly. I am thankful and happy to have participated. This was an effort that is worth repeating."