Division of Orthodontics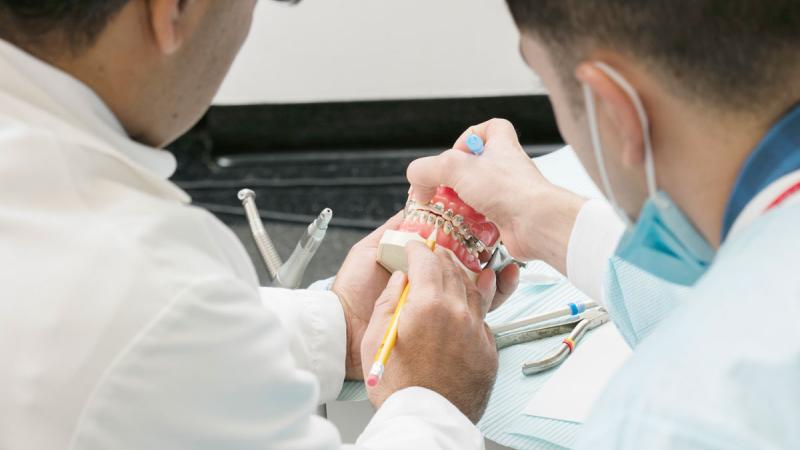 The Division of Orthodontics is dedicated to providing quality dental care to the public with a focus on our surrounding upper Manhattan community; educating students to become proficient, critically thinking practitioners of orthodontics who are capable of functioning in both clinical and academic environments; and cultivating an environment that encourages scholarly activity and research which will improve the health and well-being of the public.
Education
Predoctoral students begin orthodontic training in their second year of dental school with the preclinical orthodontic lab course. This course consists of introductory lectures and preclinical training in the construction of appliances to correct dental irregularities. In their third year, students will participate in a series of small-group seminars led by orthodontic faculty members, aimed at increasing their diagnostic and treatment planning capabilities. Third-year students undergo Invisalign certification, after which they are permitted to begin treating simple clinical cases with clear aligners. Some students enter a special "Selectives" program in orthodontics designed for students who wish to get more orthodontic exposure to help in making career decisions. In their fourth year, students continue to refine their orthodontic knowledge by analyzing cases presented in online modules. Each case becomes the subject of an in-class discussion with an orthodontic faculty member.
The Postdoctoral Orthodontics Program is designed to satisfy all requirements for American Board of Orthodontics certification. The program provides students with intensive, advanced training in specialized biological and clinical sciences through a combination of clinical experience, lectures, seminars, and extensive laboratory coursework, integrated with treatment of various kinds of malocclusions.
The Division also offers a Postdoctoral Externship for Foreign Trained Dentists.
Patient Care
Many of our faculty are practicing dentists with ColumbiaDoctors Dentistry, the faculty practice of the College of Dental Medicine.
The Division of Orthodontics also provides treatment for children and adults at the College of Dental Medicine's Teaching Clinics. Graduate dentists in specialty training provide care with the assistance and supervision of faculty specialists.
Research
Research is an important component of the Division of Orthodontics. Our two active research laboratories are currently focused on:
Examining the molecular pathways that regulate temporomandibular joint mechanical loading induced remodeling. It has developed mouse models of mechanical loading induced TMJ remodeling and has extensively characterized how changing the occlusal loading affects TMJ chondrocyte growth and maturation.
Examining the role of Estrogen Receptor in mediating the mechanical loading induced TMJ remodeling.
Examining the role of angiogenesis and signal transduction in skeletal progenitor cell fate determination during bone/cartilage development, disease and regeneration.
Associated Postdoctoral Programs