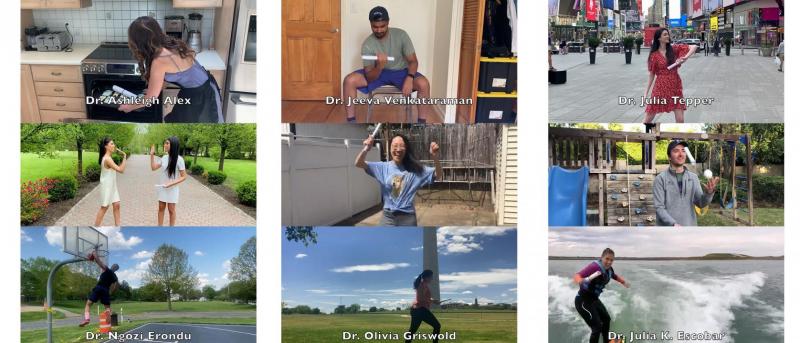 Ceremony Honors CDM Graduates' Character, Achievement
As he welcomed graduating students, their guests, and the Columbia University College of Dental Medicine (CDM) community to the school's "103rd but one-of-a-kind" graduation ceremony, Christian Stohler, DMD, DrMedDent, dean of CDM, shared some lighthearted housekeeping notes: Keep the hand sanitizer nearby; hugging and kissing "on stage" is encouraged; and no need to silence cell phones. Standard etiquette wasn't required because, unlike previous CDM graduation ceremonies, the May 21 event was held online instead of in an auditorium as a cautionary measure against the spread of COVID-19.
To recognize and celebrate the DDS graduates, the virtual ceremony incorporated many traditional elements—the awarding of diplomas, recitation of the oath of the profession, and remarks from the CDM deans, the class president, and others—in adapted formats and was bracketed by two student-generated videos.
"I know that I speak for all parties when I say that we are proud of each 2020 graduate," said Stohler. He applauded the graduates' high match rate to postgraduate residency programs, resilience during the pandemic, and adaptability with the transition to Epic, the enterprise-wide electronic health record that was rolled out in early 2020. "With this you leave behind the result of a huge professional transformation and change in culture that will be the Columbia way for classes that follow you," he said.
"The uncertainty of these current times and the challenges of this semester—which, ironically, we all thought would be Epic-related—called for collective strength from your class," said Sandra Bernal Garcia, associate dean for student affairs at CDM. She thanked the graduates for their patience and trust as the school navigated the educational disruptions brought about COVID-19 and noted their partnership on many occasions, including the opening of the Center for Precision Dental Medicine, orientation and recruitment efforts, and summer pipeline programs.
Each year, one faculty member is chosen to receive the Edward V. Zegarelli Teaching Award. Thomas Boyle, DMD, assistant professor of dental medicine at CUMC and group leader of one of the clinical student cohorts, was honored with the 2020 award. He joined the virtual ceremony to offer additional thanks and well wishes.  
Many students receive awards close to graduation as well; these awardees can be found in the event program.
After several brief speeches, the graduates' names were read aloud and they recited the oath for the profession, a modified version of the Hippocratic Oath. Dana Wolf, DMD, associate dean for predoctoral academic affairs, led a virtual toast, and the ceremony concluded with a whimsical video of the graduates passing along a faux diploma over a series of clips. In the final minutes of the live stream, the CDM graduates waved and smiled from a grid of their video windows, a parting moment of cyber-celebration before they continued on with their individual dental journeys.
Topics
Campus News, Education