General and Specialty Dentistry Clinic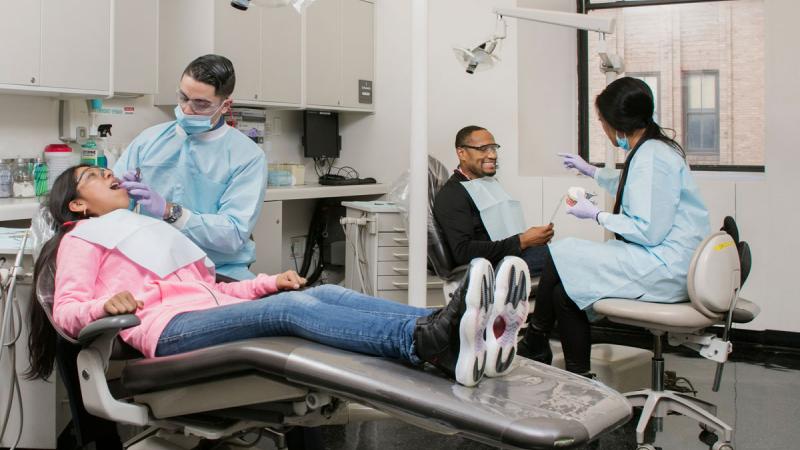 The General and Specialty Dentistry Clinic provides quality oral health care to adults and children over the age of 8, including X-rays and cleaning. Our dentists also provide a full range of specialty care such as root canals, gum disease treatment, and facial pain relief.
Care is provided by dental students and/or dental residents and is closely supervised by licensed dental faculty to ensure that you receive the highest standard of care.
Our Services
General Dentistry: comprehensive oral care and dental hygiene
Oral and Maxillofacial Surgery: wisdom teeth extraction, trauma care, placement of dental implants, craniofacial reconstruction and maxillofacial surgery, and construction of maxillofacial appliances to reconstruct facial anomalies
Endodontics: treatment of infected and traumatized teeth in need of root canal therapy
Periodontics: preventive care and treatment of gum disease and disease of tooth-supporting tissues.
Prosthodontics: advanced reconstructive dental care for severely damaged teeth, including dental implants, crowns, bridges, and dentures.
Oral Pathology: consulting services and a broad spectrum of laboratory services for oral lesions. Treatment is also offered for oral symptoms such as burning mouth, dry mouth, and infections of the oral cavity.
Urgent Care: walk-in care for patients with excessive bleeding, swelling, oral infection and/or trauma during clinic hours.
Special Needs: a wide range of treatment for special needs patients
New Patients
During your first appointment at the General and Specialty Dentistry Clinic, a dentist will briefly evaluate your oral health care needs and determine which provider is best suited to your care.
You can expect the following at your first appointment:
A welcome packet with an introduction to the clinic staff
A review of your medical and dental history and a brief screening of your oral health
Dental X-rays as needed
At the end of your first appointment, you will be assigned to a dental provider or specialist and given a follow up appointment. At that appointment, for which an additional fee will be charged, your assigned provider will complete a comprehensive evaluation and discuss the details and fees of treatment plans that are specific to your oral health.
What to Bring to Your First Appointment
Completed new patient forms: Patient Registration Form (Formulario de Registro del Paciente) and the Medical History Form (Historical Medico)
Recent dental X-rays if you have them
Photo identification with current address or 2 forms of non-photo identification with current address.  If photo identification does not include current address, a second form of identification is required which includes the current address (example: a utility bill).

Acceptable forms of photo ID include:

Driver's license
Non-driver's ID (issued by the Dept. of Motor Vehicles)
Medicaid card with photo
School or employer ID
Passport. 

Acceptable forms of non-photo ID:

Medicaid card without photo
Insurance card
Credit card 
Utility or rent bill
Library card. 

Patients under the age of 18 must be accompanied by a parent or legal guardian
Fees
Please note that there is a cost for the brief screening and X-ray(s). This fee does not include the additional cost that you will incur for the detailed comprehensive evaluation that will be rendered at your next appointment.
Payment in full is due at the time of treatment. Fees are payable by cash, check, credit or debit card, New York State Medicaid Managed Care, and New York State Medicaid (with valid Medicaid card).
Make an Appointment
The General and Specialty Dentistry Clinic is open weekdays according to the schedule below, except during holidays. Call 212-305-6100 to make an appointment.
VC-5 (Vanderbilt Clinic, 5th Floor)
Monday-Friday, 8 a.m. to 4 p.m.
VC-7 Clinic (Vanderbilt Clinic, 7th Floor)
Monday, 8 a.m. to 7 p.m.
Tuesday, 8 a.m. to 4 p.m.
Wednesday, 8 a.m. to 4 p.m.
Thursday, 8 a.m. to 7 p.m.
Friday, 8 a.m. to 4 p.m.
Location
General and Specialty Dentistry Clinic
622 West 168th Street, 7th Floor
New York, NY 10032
Questions?
Call 212-305-6100 with any questions about scheduling, billing, or to speak directly with an attendant.