​Dental Implants
Make an Appointment at a Location Near You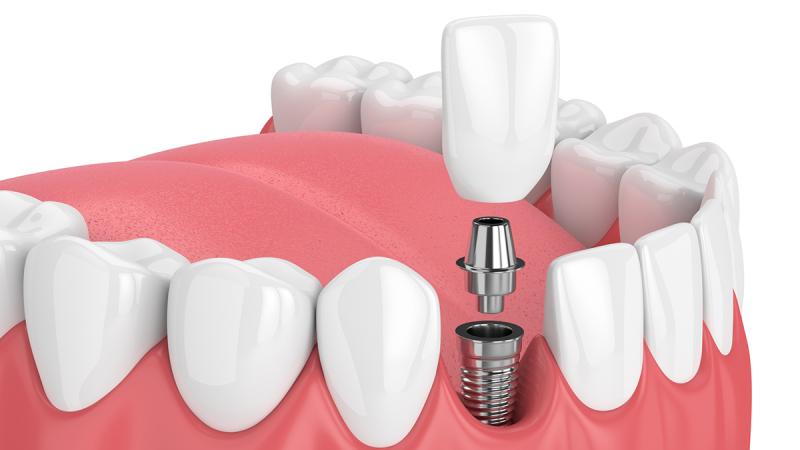 Dental implants are a safe and popular solution for replacing missing or damaged teeth. They can provide better function and improve your overall oral health.
What Is a Dental Implant?
A dental implant is a titanium screw that is surgically placed in the upper or lower jaw. The implant replaces the natural root of your tooth and serves as an anchor for a replacement tooth. The single tooth replacement is called a crown. If multiple teeth need replacing, your dentist can add a section of replacement teeth called an implant-supported bridge. The dental implant can also be attached to a removable partial or denture to prove better stability and function.
Replacing missing or damaged teeth with implants can also prevent other side effects of leaving spaces in your mouth.
Who Might Need a Dental Implant?
Dental implants may be a good option if you:
Have missing or damaged teeth
Are uncomfortable wearing dentures
Want to keep as much healthy surrounding tooth structure as possible
Have difficulty speaking or eating due to missing or damaged teeth
What Is the Process Like?
Getting a dental implant involves a few steps. How long the overall process takes can vary from a single visit to a few months.
Implant placement
The implant can be placed under local anesthesia and the procedure is fairly painless. The recovery period is quick. Most of the time you are back to normal function is a few days.
Healing or osseointegration
Your bone must grow on to the surface of the implant. This can take between 12 to 24 weeks.
This is also a painless process.
Placing a crown, bridge or denture onto the implants
Your dentist will take impressions and work with a dental lab to make the replacement teeth that attach to the implants. This can take several visits.
Maintenance
Your new implants need to be periodically cleaned by your dentist to also keep them healthy.
How Much Does a Dental Implant Cost?
The overall cost of dental implants depends on many factors and shouldn't be viewed as one-size-fits-all. Each person's needs are different, and the best implant solution should be tailored to each individual. The condition of your affected tooth site, your overall health, and your cosmetic preferences are all important factors to consider. Your dentist will give you a thorough examination to evaluate your condition before making a recommendation.
Why Choose ColumbiaDoctors Dentistry?
At ColumbiaDoctors Dentistry, we've pioneered the field of implant dentistry. We helped develop key techniques, and we continue to drive new research and innovation. Our specialists are experts in their fields—we perform hundreds of dental implant procedures each year. We have access to the most advanced materials and the latest technologies. We'll be happy to answer your questions and help you determine whether you are a good candidate for dental implants.